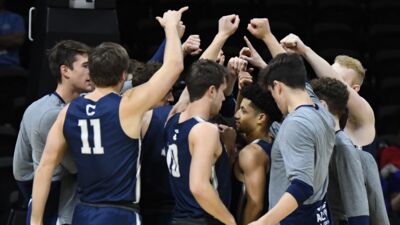 SEWARD, Neb. – Coming off one of the greatest seasons in school history, the Concordia University Men's Basketball team finds itself three weeks out from the start of the 2022-23 campaign. In the 2022-23 GPAC Men's Basketball Preseason Coaches' Poll released on Thursday (Oct. 13), the Bulldogs landed at No. 4 with 77 points in the poll. Head Coach Ben Limback led last season's squad to a share of the GPAC regular season title and to the program's second GPAC tournament championship in three years.
Concordia brings back three starters: frontcourt players Noah Schutte and Gage Smith and point guard AJ Watson. The uber-athletic frontcourt also features Gage's brother Tristan. The Bulldogs are working on replacing all-conference guards Carter Kent and Justin Wiersema and the rest of a senior class that played a major role in elevating the program. Eight players return who were part of last season's postseason roster.
The 2021-22 Bulldogs finished 28-7 overall and tied for first place in the GPAC regular season standings after having been picked third in the preseason coaches' poll. Concordia went on to advance to the NAIA national quarterfinals. The appearance at nationals marked the program's 11th all-time trip to the big stage. Last season's squad was the program's first to win a GPAC regular season title and the first to capture a conference regular season championship since the 1995-96 campaign. This year's team is picked to place behind Jamestown, Briar Cliff and Northwestern.
The Bulldogs will tip off the 2022-23 season at the 23rd annual Cattle Classic (Nov. 4-5). As part of the event, Concordia will take on Tabor College (Kan.) and Ottawa University (Kan.).
2022-23 GPAC Men's Basketball Preseason Coaches' Poll
(First-place votes in parentheses)
1. Jamestown – 93 (6)
2. Briar Cliff – 87 (4)
3. Northwestern – 79 (1)
4. Concordia – 77
5. Dordt – 71
6. Morningside – 54
7. Doane – 48
8. Dakota Wesleyan – 37
9. Midland – 28
10. Hastings – 16
11. Mount Marty – 15