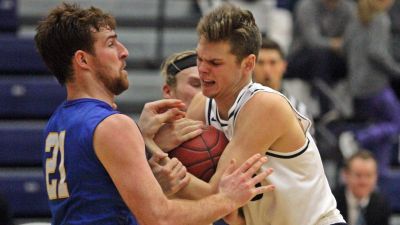 SEWARD, Neb. – For the second time in four days, a team from Sioux City, Iowa, invaded Walz Arena and pulled away from the Concordia University men's basketball team in the second half. A three-point halftime margin eventually grew as large as 22 as the Bulldogs fell at the hands of defending conference champion and first place Briar Cliff, 78-65, on Wednesday evening (Jan. 10).
Fifth-year head coach Ben Limback's squad had to bounce back from its 80-57 loss to 10th-ranked Morningside this past weekend. Instead, Concordia suffered a second home defeat in a row and slipped to 12-5 overall and to 5-4 in conference action.
"We didn't trust each other tonight. I didn't think the ball moved very well," Limback said. "We had 14 turnovers. We can't have that many. And they obviously hit the three more than we did. That was a big story. We wanted to go inside. We didn't take advantage of that and we only shot nine free throws tonight. They did a good job walling up, but I didn't think we finished very strong or posted up very strong."
The Bulldogs began this season by winning each of their first five home games while averaging 88.6 points in those contests. However, the past two home outings have seen the well run dry. Concordia entered the night expecting to have to pile up a lot more than 65 points to keep up with a Charger team ranked in the top 10 nationally in scoring. Zach Friel and company went through a red-hot stretch when they drained 10-out-of-11 shots. But the Bulldogs scuffled, going 16-for-46 (.348) the rest of the way.
The offensive woes meant that Concordia failed to snatch up an opportunity on a night when it held four Briar Cliff starters below their season scoring averages. The one exception was star junior guard Erich Erdman, who tallied a game high 21 points on 7-for-10 shooting from the floor. Erdman capped a death blow of a 15-2 run in the second half with a trey and then another bucket. The Chargers (18-2, 7-1 GPAC) led 61-46 with 11:50 remaining and maintained a double-digit lead through the final horn.
Friel (nine points on 3-for-6 3-point shooting) was the only significant offensive contributor off the bench for Concordia. Three Bulldog starters reached double figures: Tanner Shuck (11), Jake Hornick (10) and Clay Reimers (10). Collectively, Concordia shot 43.3 percent (26-for-60) compared to 46.6 percent (27-for-58) shooting by Briar Cliff.
The fourth-ranked Chargers, who are led by first-year head coach Mark Svagera, came into action shooting better than 50 percent from the field this season. Jay Wolfe (16) and Jackson Lamb (13) joined Erdman in double figures. Not only did Briar Cliff shoot better, it outrebounded the Bulldogs, 40-32, and had five fewer turnovers.
The Bulldogs will hit the road on Saturday and make a trip to Yankton, S.D., for a contest at Mount Marty (3-16, 0-0 GPAC). Tipoff was moved up to 3:30 p.m. CT. When the two sides met up inside Walz Arena on Nov. 21, Concordia trounced the Lancers, 105-63.