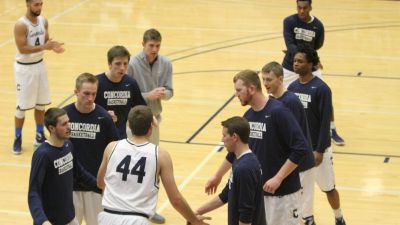 Highest scoring teams in Concordia MBB history:
1. 1993-94 – 88.6
2. 1990-91 – 86.4
3. 2015-16 – 86.0
4. 1995-96 – 85.1
5. 2000-01 – 84.0
At 11-9 overall and having lost five of their previous six games, the Bulldogs were not who they wanted to be. The close losses had mounted, including two in a row at home against upper division GPAC opponents. Head coach Ben Limback's squad had proven it could hang with anyone in the league, but it hadn't figured out how to conquer GPAC slugfests on a consistent basis.
Fast forward a month later and the defensive performance has improved, helping feed into an offensive attack that is producing at near historic levels for the program. Last week the Bulldogs drained 17 treys and shot 61.2 percent from the field to steamroll Northwestern, 110-89.
Limback's crew has found its groove, winning seven of its last eight games. Chandler Folkerts has been a consistent monster in the paint and point guard Jamie Pearson has rediscovered his scoring touch. It adds up to one of the more explosive teams in school history and in the nation. Pearson has an explanation for the team's recent hot streak.
Says the native of Ypsilanti, Mich., "Our ball movement has been a lot better. Some of the stats may not show it, but our defense has been a lot better too. We're getting more stops and creating offense off of our defense. I've been able to get out in transition more and Chandler's been consistent. We've always had that inside factor. It's about the other four guys on the court getting involved along with the big man. We all have to be involved in the offense."
The Bulldogs are now the fourth most efficient team in NAIA Division II in terms of field goal percentage (.507) and have averaged 89.3 points during their run of success over the last eight outings. Limback possesses four significant weapons at his disposal in Folkerts (20.1 ppg), Pearson (18.5), Robby Thomas (13.7) and Eli Ziegler (10.4)
When all four get touches, good things happen.
"There's a good feeling amongst the team," Limback said in Thursday's Bulldog Coaches Show interview. "Any time you're on a winning streak you have a little more pep in your step, a little more swagger. It definitely helps to win. I know the guys are still hungry to continue to improve and understand the challenges that lie before us."
A transfer from NCAA Division II Wayne State College, Pearson admits that he was slow to adapt to the way teams began guarding him after he popped with four games of more than 30 points over a nine-game span early in the season. He then went 13 games without even reaching the 20-point threshold.
The Bulldogs could not be the offensive juggernaut they've become without Pearson's dynamic scoring abilities. He's one point away from reaching 500 tallies for the season. Folkerts has 563 points. The last time the program had two players eclipse 500 points in the same season was back in 2005-06 (Jon Ziegler and Scott Beck). But that team averaged almost 20 points per game fewer than the high-powered 2015-16 edition of Concordia men's basketball.
"There's a good rhythm right now with our team," Limback said. "Chandler's been a consistent force inside and now Jamie's getting into a rhythm offensively. Having a perimeter attack between him and Eli and a lot of guys who shot well Saturday (versus Northwestern) is important. That's a great thing to have as we head into the stretch run."
Pearson came to Concordia with an eye on ending the program's national tournament drought. In order to do that, the Bulldogs will likely have to win three-straight road games in the GPAC tournament to secure a berth. In their moments of brilliance, Pearson and company have shown enough to make that feat seem possible.
"We feel like if we're playing and clicking like we have been lately we can beat any team in the conference," Pearson said. "We had a few tough losses in conference. We were going through some things and kind of went into a slump. Now we're away from that. We feel like we're the best team. We've got to show that."