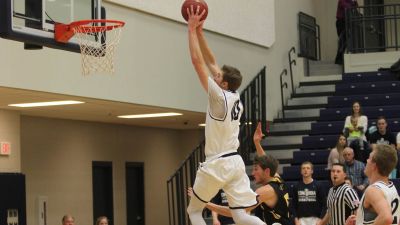 SEWARD, Neb. – The Bulldogs are back to having fun. Sophomore Clay Reimers threw down an exclamation mark of an alley-oop while he and his teammates stifled the offensive attack of visiting Dordt. The Concordia University men's basketball team sent the Defenders packing in what culminated in a 74-59 Bulldog win inside Walz Arena on Saturday afternoon (Jan. 20).
It was important for fifth-year head coach Ben Limback's squad to get back on the right track this week on the heels of a three-game conference skid. Concordia (14-6, 6-5 GPAC) piggybacked on top of Wednesday's 91-65 triumph at Haskell Indian Nations University with another solid performance.
"They went on a little run with some threes (in the second half) and I thought we answered it with some tough buckets and free throws," Limback said. "Clay had two free throws and Chris (Johnstone) had some big free throws during that run. I'm proud of the guys to defensively come out here and handle them and be able to get a win at home."
Reimers was active all game long. He played a big part in the struggles Dordt experienced offensively. The Defenders (10-13, 4-7 GPAC) shot only 33.8 percent (22-for-65) from the floor (28.6 percent from 3-point range). Reimers wreaked havoc by blocking four shots and by getting his long arms into the passing lanes (three steals). Said Limback, "I thought Clay was really big tonight on both ends."
The Bulldogs led by as many as 13 points in the first half, but the advantage dwindled down to five (55-50) with 8:29 remaining in the game. That's when Concordia showed the mettle of a team capable of landing a spot in the top four of the conference. The Bulldogs went on a 10-0 run that started with a bucket by Riley Tegtmeier and ended with one from Kyle Pierce. Just when the Defenders attempted to get on a roll with the help of a three-point play, Pierce pounced with a steal and dunk in transition.
Concordia was glad to get Chris Johnstone back on the floor after he missed the previous two contests due to an unusual issue with his right eye. He provided a spark off the bench while nailing all eight free throw attempts and 2-of-3 shots from the floor for 12 points to go along with a pair of steals.
"I didn't practice the last couple of days but it was good to be back out there," Johnstone said. "I could see the rim, see my teammates and play defense. I just played my role the best I could. I really think we all fed off it. We all played together."
On the offensive end, Reimers went for 18 points on 7-for-8 shooting from the field. Point guard Jake Hornick (10 points, nine assists, eight rebounds) again came close to a triple-double. Off the bench, Zach Friel and Brevin Sloup contributed eight points apiece. Collectively, the Bulldogs shot an impressive percentage of 62.8 (27-for-43), helping overcome 19 turnovers.
Dordt had just come off a 78-66 home win over No. 19 Dakota Wesleyan. The Defenders were well shy of their season average of 89.0 points per game. They were led by the 14 points from Ben Gesink. The rest of the starting lineup produced a meager 12 points on 5-for-19 shooting.
Two middle-of-the-conference squads will go head-to-head in Hastings on Wednesday (8 p.m. CT) when the Bulldogs take on the Broncos (15-7, 5-5 GPAC), who have won five of their last six contests. Hastings is coming off a 96-72 upset of fourth-ranked Briar Cliff. Following action in Hastings, Concordia will head to the 67th annual Concordia Invitational Tournament (Jan. 26-27).