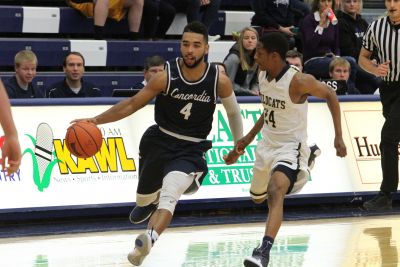 Dakota Wesleyan rolls past Concordia, 92-64
Dakota Wesleyan cruised to a 92-64 men's basketball win over Concordia on Sunday in Mitchell. The Tigers improved to 15-6 overall and 5-5 in the GPAC with the win. Concordia fell to 11-6 overall and 5-4 in GPAC play with the loss. Concordia defeated DWU 82-71 earlier this season, but defense has been an issue lately for the Bulldogs. Concordia has lost three of its last four games and has allowed at least 90 points in each of those losses.
DWU led by double figures for much of the first half. The Tigers led by as many as 22 on two occasions and took a 46-24 lead into halftime. Dakota Wesleyan was 17-of-27 (63 percent) overall and 6-of-8 (75 percent) from long range in the opening half. Concordia was just 7-of-23 (30.4 percent) overall and 3-of-11 (27.3 percent) on 3-pointers in the first 20 minutes.
The Dakota Wesleyan offense continued to shine in the second half, as the Tigers were 16-of-29 (55.2 percent) from the field. DWU led by as many as 31 in the final half and secured the easy 92-64 victory.
The Tigers were 33-of-56 (58.9 percent) from field on the day. DWU was 8-of-13 (61.5 percent) from long range and 18-of-23 (78.3 percent) at the charity stripe. The Tigers held a slim 32-31 rebounding advantage. DWU totaled 19 assists on their 33 made field goals.
Brady Wiebe and Jordan Long scored 15 points apiece, while Larry Swann and Kristopher Wilson poured in 13 apiece for the Tigers in the win.
Concordia managed just 18-of-54 (33.3 percent) shooting in the loss. The Bulldogs were 7-of-21 (33.3 percent) from deep and 21-of-27 (77.8 percent) at the foul line. Concordia totaled just eight assists with 13 turnovers on the day.
Tyler Byrd (Bennington, Neb.) scored a game-high 21 points for Concordia in the loss. Byrd was a perfect 6-of-6 from long range and 7-of-14 overall from the field. Sam Huebner (Aurora, Colo.) added a double-double of 17 points and 10 rebounds.
Concordia will look to get back on track with a home game against Midland University on January 19. Tip is scheduled for 8 p.m. at the Health, Human Performance and Athletic Center.