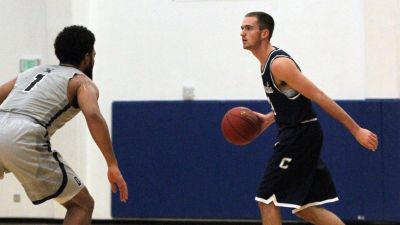 DENVER, Colo. – A corner trey canned by Eli Ziegler with under two minutes left proved to be the death blow that helped propel the Concordia University men's basketball team to a come-from-behind season-opening win on Friday afternoon. The Bulldogs erased an 11-point second half deficit and defeated Dickinson State University (N.D.), 73-66, in contest that took place in Denver on the Johnson & Wales University campus.
Concordia has now won three-straight season openers under the direction of fourth-year head coach Ben Limback.
"It was not our best performance on the offensive end. You could tell it looked like our first game at times," Limback said. "We struggled to score inside against their length, but we stuck with it. We talked at the end of the game about how proud we were of their fight. We stayed together as a team despite not having our best game offensively. To come away with a win is great, but our guys know we can play better."
The Bulldogs showed resilience in weathering a 21-3 Blue Hawk splurge that staked Dickinson State to a 53-42 advantage. A host of players emerged to help Concordia muster a game-defining run of its own. Elevated to a starting role as a senior, guard Seth Curran poured in a career high 15 points. During the Bulldogs' 26-8 spurt, Curran not only scored eight points, he assisted on a triple by Tanner Shuck and Ziegler's dagger.
Playing in his first career collegiate game, freshman Brevin Sloup got into the act with a trey that got Concordia within one (56-55) with 7:07 left in the game. The Bulldogs finally edged in front, 62-61, with a Chandler Folkerts free throw at the 3:09 mark. Ziegler then surfaced with the long ball after misfiring on his first five 3-point attempts.
It was an all-around solid performance by Curran, who joined Chris Johnstone and Ziegler in the starting backcourt. In his first career start, Curran made 3-of-5 shots from the field, 7-of-8 free throws and added four rebounds and a steal to his stat line. He topped Concordia's group of four double-figure scorers, which included Ziegler (13), Folkerts (11) and Johnstone (10). Johnstone was one of five players to make their Bulldog debuts on Friday. Another newbie is Shuck, who drained 2-of-3 shots from beyond the arc.
"He looked like a senior," Limback said of Curran. "It was awesome to see. He was very consistent, very composed. Overall I thought he played great at both ends. In games like that where Chandler and other guys aren't clicking, you need someone like Seth to step up and do those things. I thought he looked like a guy that had been there before. We needed that."
On the defensive end, Concordia shored up an area that plagued it last season. Dickinson State went only 3-for-19 (.158) from 3-point range. The Blue Hawks were paced by the 12 points and seven assists of Jake Buck. Dickinson State actually shot a higher percentage from the field (45.5 to 43.1) than Concordia, but the Bulldogs made up for it at the foul line (22-for-29).
Though Kyle Pierce went 1-for-7 from the floor, he pulled down a game high nine rebounds in a contest that was nearly dead even on the glass. Turnovers were also essentially a wash. The Blue Hawks had 15. The Bulldogs had 14.
The Bulldogs will remain in Denver for Saturday's contest against host Johnson & Wales University. Tipoff is set for 7 p.m. MT / 8 p.m. CT. The Wildcats are coming off of a 15-16 season. These two sides met in Concordia's 2015-16 season opener. It resulted in an 89-49 Bulldog win. A live webcast will be available HERE.