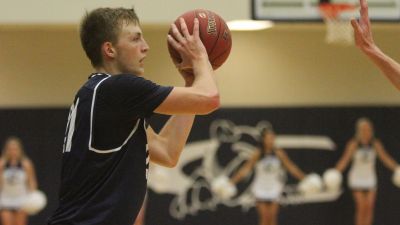 SEWARD, Neb. – The opening week of conference play has arrived for the Concordia University men's basketball program, which came up just shy of its first 5-0 start since the 2004-05 season. While riding rising sophomores Jake Hornick and Clay Reimers, the Bulldogs have won four of their first five games with the only loss coming by an 82-77 score to No. 16 Tabor College (Kan.) over the weekend.
This week's schedule
Wednesday vs. Midland (4-1), 8 p.m. CT
-Webcast: Concordia Sports Network
Saturday at (10) Dakota Wesleyan (4-2), 4 p.m. CT
-Webcast: Stretch Internet
Fifth-year head coach Ben Limback's squad will need continued production from its sophomore class while going up against two opponents that reached the national tournament back in March. The 6-foot-8 Reimers enters the week averaging 18.2 points and 8.2 rebounds per game as Concordia's new star post player. At the point guard spot, Hornick has been rock steady, posting averages of 17.4 points, 6.0 rebounds and 4.6 assists. Tanner Shuck (11.4) is the team's third double-figure scorer. He's shooting 44.1 percent from beyond the arc.
The early-season run has included wins over Kansas Wesleyan University, Mount Mercy University (Iowa), Evangel University (Mo.) and Sterling College (Kan.). The Bulldog offense is averaging 80.4 points and sports shooting percentages of 48.4 from the field, 33.3 from beyond the arc and 69.5 from the free throw line. Meanwhile, its opponents are averaging 75.8 points while shooting 46.0 percent from the field and 27.2 percent from 3-point range. Concordia has scored at least 75 points each time out this season.
The Bulldogs got a look at Midland when it visited Walz Arena for the Cattle Classic (Nov. 3-4). The Warriors have a very different team this season under head coach Oliver Drake. The holdovers in the starting lineup are leading scorer Ryan Williams and top rebounder Nick Wood. The other three starters are transfers in guards Darrin Clark (Eastern Arizona College), TK Dixson (Marygove College) and Marti Fonolla (Southeastern Oklahoma State University). After a 4-0 start, the Warriors suffered an 86-67 loss to Grand View University (Iowa) last week.
Dakota Wesleyan features one of the most potent offensive teams in the nation thanks to the terrific trio of Ty Hoglund, Jason Spicer and Trae Vandenburg, who average a combined 55.9 points per game. Nationally, the Tigers rank seventh in field goal percentage (.527) and 17th in scoring offense (93.0). Ranked 10th in the NAIA Division II preseason poll, Dakota Wesleyan is coming off back-to-back losses on the road (University of Jamestown and York College). Head coach Matt Wilber's squad went 23-10 last season and tied for second place in the GPAC.
Concordia will host Mount Marty next Tuesday (Nov. 21) inside Walz Arena. It will then dip back outside of conference play during Thanksgiving break and make a trip to the Denver area for games against Colorado School of Mines (Nov. 24) and Colorado Christian University (Nov. 25).
Projected lineups
Concordia (4-1)
G – Jake Hornick: 17.4 ppg, 6.0 rpg, 4.6 apg, 1.6 spg, .617 fg%, .880 ft%
G – Cordell Gillingham: 6.6 ppg, 5.2 rpg, 3.2 apg, .448 fg%
G – Tanner Shuck: 11.4 ppg, 2.4 rpg, 1.2 apg, .442 fg%, .441 3-pt fg%
F – Kyle Pierce: 8.8 ppg, 4.0 rpg, 1.8 apg, 0.8 bpg, .400 fg%
F – Clay Reimers: 18.2 ppg, 8.2 rpg, 2.2 apg, .583 fg%, .680 ft%
Midland (4-1)
G – TK Dixson: 10.8 ppg, 6.4 rpg, 4.0 apg, .309 fg%, .846 ft%
G – Darrin Clark: 11.2 ppg, 4.4 rpg, 3.1 apg, .385 fg%, .800 ft%
G – Marti Fonolla: 4.0 ppg, 5.6 rpg, 1.8 apg, .471 fg%
F – Ryan Williams: 16.4 ppg, 5.2 rpg, 1.2 spg, .484 fg%, .400 3-pt fg%
F – Nick Wood: 9.0 ppg, 7.2 rpg, .484 fg%, .536 ft%
Dakota Wesleyan (4-2)
G – Trae Vandenberg: 14.8 ppg, 7.7 rpg, 3.8 apg, .403 fg%, .189 3-pt fg%
G – Ty Hoglund: 21.3 ppg, 4.5 apg, 3.0 rpg, 1.0 spg, .536 fg%, .409 3-pt fg%
G – Tyson Smiley: 9.8 ppg, 5.0 rpg, 2.2 apg, .684 fg%
F – Nygel Drury: 13.0 ppg, 3.7 rpg, 1.0 spg, .520 fg%, .379 3-pt fg%
F – Jason Spicer: 19.8 ppg, 6.7 rpg, 4.8 apg, .690 fg%, .804 ft%