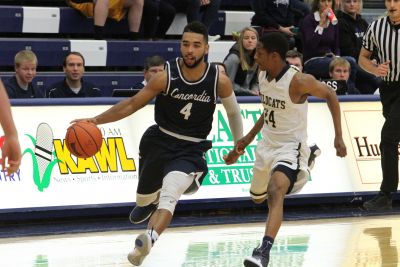 Concordia tops Bethel College behind Huebner's double-double
Concordia University moved to 9-3 on the year with a 70-58 men's basketball win over Bethel College on Friday afternoon in the opening game of the Bethel College Holiday Classic Tournament. The Bulldogs used strong defense in the opening half and a balanced scoring attack to pull away for the win. The Threshers dropped to 2-11 on the year with the loss.
Concordia got off to a slow start. It took the Bulldogs over four minutes to get on the board, and the host Threshers held the lead for a good portion of the first half. Concordia took its first lead of the game with just under nine minutes remaining in the opening half. The Bulldogs used an 8-1 run to grab a 17-10 lead with 5:12 remaining in the half. With the score 17-12, Concordia used a quick 7-0 run to grab a 12 point lead with less than three minutes to play in the half. The Bulldogs settled for a 27-17 lead at the half.
Both teams struggled offensively in the first 20 minutes. Concordia was just 6-of-25 (24 percent), while Bethel was 6-of-24 (25 percent) from the field. The Bulldogs connected on just 2-of-10 from deep in the opening half of play.
The Bulldogs led by as many as 15 on two occasions early in the second half. The Threshers pulled within seven on multiple occasions, but Concordia answered with an 8-0 run to reclaim a 15 point lead at 57-42 with less than five minutes remaining in regulation. The Bulldogs led by double figures the rest of the way.
Following a tough first half, both teams shot it well in the second half. Concordia was 12-of-22 (55 percent), and Bethel was 15-of-31 (48 percent) in the final 20 minutes. The Bulldogs were 18-of-47 (38.3 percent) from the field for the game. The Threshers were 21-of-55 (38.2 percent).
Sam Huebner (Aurora, Colo.) had a double-double of 18 points and 11 rebounds to lead the way for the Bulldogs. The senior forward was 7-of-11 from the field on the day. Ryan Shrum (Allen, Texas) added 17 points. Tyler Byrd (Bennington, Neb.) and Barrett Braun (Lakeside, Calif.) also reached double figures with 11 and 10 points, respectively, for Concordia in the win. T.J. Todd (Seaside, Calif.) poured in nine points off the bench in his first game for the Bulldogs.
Alonzo Haywood scored a team-high 14 for Bethel College. Jason O'Brien added 10 for the Threshers.
Concordia concludes play in the Bethel Holiday Tournament on Saturday with a 1 pm contest against Friends University.