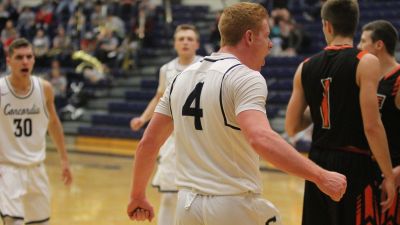 SEWARD, Neb. – An 18-3 run in the second half pulled the Concordia University men's basketball team out of a deficit – and out of a four-game skid. After halftime, visiting Doane mustered only 26 points while the Bulldogs pulled away for a 71-56 victory inside Walz Arena on Wednesday night (Feb. 14). The Tigers went just 2-for-11 from 3-point range and star Nick Kornieck was limited by foul trouble.
Some home cooking was just what fifth-year head coach Ben Limback's squad needed after a grueling week on the road against the top two teams in the GPAC standings. Concordia (17-11, 8-9 GPAC) has fallen out of contention for a top-four league finish, but a much needed win over a nearby rival was a nice consolation.
"We just tried to get back to being confident offensively and executing better," Limback said. "I thought we executed really well in the second half. Defensively is where we have to continue to hang our hat. We really guarded well tonight and limited their leading scorer. Their point guard (Anthony) Laravie is a great player and I thought we did a good job on him. Defensively is where we have to continue to battle."
Superb play on the defensive end meant the Bulldogs needed only a dab of offensive firepower on this particular night. After falling behind 46-42 midway through the second half, Concordia put the squeeze on Doane (13-16, 7-10 GPAC). The Bulldogs went on an 18-3 run that covered 6:29 of game time, during which the Tigers managed just a single made field goal.
Any notion Doane had of a dramatic comeback was halted in the closing three-and-a-half minutes by a Clay Reimers put back and a Tanner Shuck three-point play not long after. It was time to empty the bench and salt away the seventh home victory of the season.
"It was very important," Reimers said. "We had all sorts of guys coming off the bench making big plays for us. I think it's really big for us to get this win tonight because we struggled the last couple games."
While not a prolific offensive night, Concordia stayed under control and committed just 10 turnovers. Reimers shot only five times but put up a solid stat line of eight points, 11 rebounds and four assists. Jake Hornick just missed a double-double, going for 16 points and nine rebounds. Cordell Gillingham added 15 points (6-for-11 shooting) while continuing a scoring surge. The starters did most of the scoring, but Alec Johnston and Grant Storebo dropped in a bucket apiece in the game's final minutes.
Limback has recently put more trust into freshmen Noah Valasek and big man Alex May, who has helped cover for the injury to Zach Friel.
"They're getting better every day," Limback said. "They have great attitudes and they work hard. We have a lot of guys that are doing that. Our end-of-the-bench guys really came to work in practice this week. When we do that, everybody gets better. Everybody has to be ready."
Doane had creeped up into a tie with the Bulldogs heading into the night. The Tigers' two double figure scorers were Trace Tupper (15) and Rylee Zimmerman (14). Doane shot 41.2 percent from the field compared to the 45.8 percent clip posted by Concordia.
The Bulldogs will conclude the regular season on Saturday when 17th-ranked Dakota Wesleyan (20-9, 10-7 GPAC) makes its way to Seward for a 4 p.m. CT tipoff. In the season's first meeting that took place at the Corn Palace, the Tigers topped Concordia, 77-69, on Nov. 18. The Tigers knocked off No. 10 Northwestern, 85-69, on Wednesday.