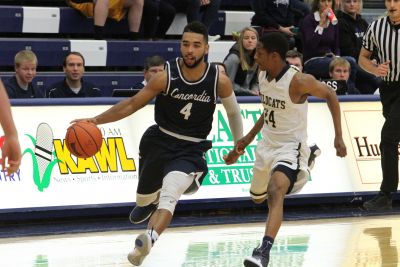 Concordia to take part in Tabor College Holiday Classic
Concordia travels to Kansas to take part in the Tabor College Holiday Classic on December 30-31. The Bulldogs will take on the hosts from Tabor on Friday and will battle Sterling College to conclude tournament play on Saturday.
The Bulldogs picked up three straight wins before Christmas to move to 7-5 on the year. Concordia picked up a key 67-64 road win over Doane College in their last game. The Bulldogs hope to continue building momentum, as some tough tests lie ahead once GPAC play resumes. Three of Concordia's next four conference opponents are currently ranked in the top 20.
Concordia and Tabor College square off at 8 p.m. on December 30. Tabor brings a 5-8 record into tournament play. The Bluejays haven't played since an 87-46 trouncing of Ottawa University on December 10. Tabor will provide live video of Friday night's contest at the following link; http://www.taborbluejays.com/f1/Watch_Live.php
On Saturday, the Bulldogs take on Sterling College at 3 p.m. The Warriors enter the weekend with a 5-9 record.
GPAC play resumes for the Bulldogs on January 4. Concordia heads to Northwestern College for an 8 p.m. matchup with the Raiders.