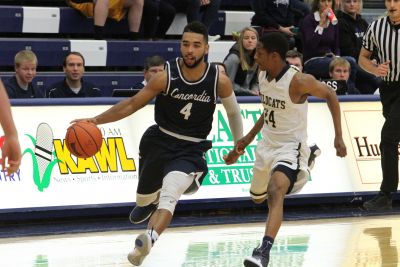 Concordia set for Wednesday matchup with #14 Northwestern
Conference play continues for the Bulldog men's basketball team on Wednesday evening. Concordia will take on Northwestern College with tip scheduled for 8 p.m. in Orange City. Northwestern is currently 14th in the latest NAIA Top 25 Poll. The Raiders are 12-3 overall and sit second in the GPAC standings at 5-2. Following a pair of losses at the Tabor College Classic this past weekend, Concordia is 7-7 overall with a 3-4 conference mark heading into Wednesday's matchup.
Concordia went into the Christmas break riding a 3-game winning streak. The Bulldogs picked up overtime victories over Dakota Wesleyan and York College before rallying for a 67-64 win over Doane College on December 20. Things didn't go as planned at the Tabor Tournament, however, as the Bulldogs dropped 66-54 and 75-71 decisions to Tabor College and Sterling College, respectively. Concordia shot a season-low 29 percent from the field in the loss to Tabor and then struggled in the second half against Sterling College. Porter Birtell and Beau Smith continue to lead the way for the Bulldogs offensively. Birtell ranks fourth in the GPAC with 17.1 points per game, while Smith is 10th in the conference at 13.3 points per game.
Northwestern started the season with seven straight wins. The Raiders have losses this season to Morningside (102-88), Dordt (77-72) and Buena Vista (82-69). However, Northwestern has won three straight including victories over Vancouver Island (86-74) and Gordon College (82-61) in the Bill Reynolds Holiday Classic this past weekend. The Raiders are second in the GPAC in scoring offense with 83 points per game. Defense has been a struggle for Northwestern, however, as the Raiders give up 74.9 points per game to rank last in the GPAC. Despite the struggles defensively, Northwestern still sits second in the GPAC in scoring margin (+8.1). Northwestern features four players who rank in the GPAC's top 16 in scoring. Stuart Goslinga pours in 15.4 to lead the way, while Zack Leeper (12.9), Ben Miller (12.8) and Daniel Van Kalsbeek (12.5) rank 12th, 13th and 16th, respectively, for Northwestern.
The Raiders defeated Concordia by the score of 96-87 in the only matchup between the two schools last year. Northwestern will cover Wednesday's contest with a live webcast. The link can be found above. The Bulldogs host Dordt College on January 7. Tip is scheduled for 7 p.m. at the Walz Human Performance Complex.