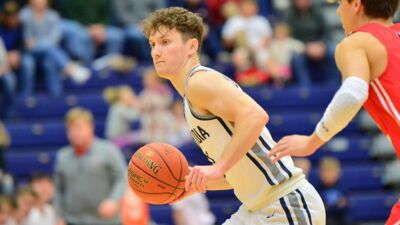 SEWARD, Neb. – Fresh off an 81-55 win over Northwestern, the 19th-ranked Concordia University Men's Basketball team will look to string some victories together heading into another week of conference play. The Bulldogs got a little closer to full strength following their 69-62 loss at Morningside on Nov. 30. The 1-1 week leaves Head Coach Ben Limback's squad at 7-2 overall (4-2 GPAC). In the jumbled up league standings, there are seven GPAC teams with exactly two conference losses. The Bulldogs now face matchups with Mount Marty and Hastings.
This Week
Wednesday, Dec. 7 vs. Mount Marty (5-7, 2-4 GPAC), 7:45 p.m.
--Live Webcast/Stats | Max Country | Location: Friedrich Arena (Seward, Neb.)
Saturday, Dec. 10 at Hastings (8-2, 2-2 GPAC), 3:45 p.m.
--Live Webcast/Stats | Max Country | Location: Lynn Farrell Arena (Hastings, Neb.)
By the numbers
· The Bulldogs have appeared in each of the first two NAIA coaches' polls of the 2022-23 regular season. Concordia landed at No. 23 in the poll released on Nov. 16 and then jumped up to 19th in the poll unveiled on Nov. 30. That No. 19 ranking is actually higher than the 2021-22 national quarterfinalist Bulldog squad appeared at any point last season (there was no postseason poll released). It's also the highest the program has been ranked in a national poll since the 2008-09 squad was placed at No. 17 during that campaign. The next poll is slated to be released on Dec. 14. Under Limback, Concordia has finished three seasons as a team either ranked or receiving votes nationally (2016-17, 2019-20 and 2021-22).
· The Bulldogs defeated Morningside twice at home last season but winning in Sioux City has never been an easy task. Concordia lost on last week's road trip, 69-62, despite shooting 51.9 percent from the floor. The Bulldogs were unable to overcome a minus-seven turnover margin and offensive struggles down the stretch of the game. On the plus side, Gage Smith produced a triple-double with 18 points, 11 rebounds and 10 assists. Brother Tristan Smith added 18 points and three rebounds. Noah Schutte chipped in with 10 points while playing in pain. The Mustangs (8-2, 4-1 GPAC) got 17 points from Ely Doble and shot much better from 3-point range (8-for-25 compared to 4-for-18).
· Stifling defensive play and strong rebounding made for a runaway, 81-55, against Northwestern three days later. The Red Raiders were limited to 31.1 percent shooting and were outrebounded, 43-34. Four Concordia players scored in double figures: AJ Watson (17), Tristan Smith (16), Joel Baker (12) and Gage Smith (10). Tristan's stat line included eight rebounds, three blocked shots and three assists. Watson also swiped three steals in what was his first outing since Nov. 16. The victors went 14-for-34 (.412) from 3-point range. The Bulldogs have won seven of the past eight series meetings with Northwestern.
· According to available records, it had been nearly a quarter century since a Concordia Men's Basketball player had achieved a triple-double. Gage Smith's triple-double was the first for a Bulldog since Ben Limback posted 12 points, 10 rebounds and 10 assists in an 83-73 win over Hastings on Feb. 7, 1998. For those who aren't aware, Coach Limback had game. A true stat-sheet stuffer, Limback was named the 1998-99 NIAC Player of the Year while averaging 14.4 points, 5.5 rebounds, 5.3 assists and 3.2 steals per game that season. As for Gage Smith, he's notched 20 career double-doubles and his 730 career rebounds rank in a tie for No. 5 in program history (he surpassed Devin Smith, 729, this past weekend). The program's top four rebounders are Matt List (928), Chandler Folkerts (868), Scott Beck (781) and Jon Zeigler (762).
· The 6-foot-5 Tristan Smith has been better than advertised in his first season as a starter. Through nine games in 2022-23, he's averaging 14.8 points, 5.9 rebounds and 1.2 blocks per game while shooting 50.5 percent from the floor. While coming off the bench for last season's GPAC championship team, Tristan averaged 4.2 points and 2.9 rebounds and became most well-known for his dramatic alley-oop layup that lifted Concordia over Briar Cliff in a pivotal late season game at home. He's more than just a good athlete. Tristan has scored in double figures in eight of the season's first nine games and has notched at least 16 points in each of the past four outings.
· Defense and rebounding have been the facets of the game that these Bulldogs have hung their hats on to this point. Among all NAIA teams, the Bulldogs rank first in defensive rebounds per game (33.0), seventh in opponents field goal percentage (.378), 10th in opponents 3-point field goal percentage (.257) and 12th in total rebounds per game (41.9). Not surprisingly, Concordia's top rebounders are its frontcourt starters: Gage Smith (10.7), Noah Schutte (6.0) and Tristan Smith (5.9). Gage is leading the GPAC in rebounds per game. Somewhat of an unsung hero, Garrett Seagren has drawn praise from Limback for his defensive prowess in the backcourt.
The opponents
Mount Marty has competed closely within GPAC play and has secured wins over Dakota Wesleyan and Midland. This is year two for Head Coach Collin Authier as the leader of the program. The Lancers are hoping to make progress following last season's 7-22 (3-17 GPAC) campaign. One of the highlights of last season was the 70-67 overtime upset of Concordia in Yankton. That was the most recent matchup between the two sides. Last season's meeting in Seward was won by the Bulldogs, 87-72. The '22-23 Mount Marty team is averaging 72.8 points while allowing 76.1. The leading scorer is Tash Lunday at 20.5 points per game.
Hastings has gotten a jolt from a new Head Coach in Todd Raridon (who entered this season with 33 prior years of college head coaching experience) and a revamped roster. The Broncos raced to an 8-0 start before road losses this past weekend to No. 6 Jamestown and Dakota Wesleyan. The eight victories have already matched the program's win total from 2021-22 when it went 7-23 overall (2-18 GPAC). Concordia has won 13 consecutive meetings over Hastings, a squad it got a good look at earlier this season at the Cattle Classic. Freshman guard Reggie Thomas is averaging 20.7 points per game.
Next week
Final exams will take place next week at Concordia. As such, the lone outing will be on Dec. 15 when Doane visits Friedrich Arena.