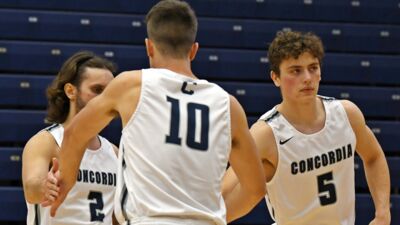 SEWARD, Neb. – This week will be about as challenging as it gets within conference play. Thankfully, the Concordia University Men's Basketball team earned a shot of confidence this past weekend when it triumphed at Northwestern, 81-74, in overtime. The Bulldogs will return to the grind on Wednesday with a trip to the Corn Palace for a matchup with 18th-ranked Dakota Wesleyan. Concordia will then look forward to hosting Jamestown on Saturday. Both opponents reside at or near the top of the GPAC standings.
This Week
Concordia (11-5, 8-3) at No. 18 Dakota Wesleyan (12-1, 8-0)
Wednesday, Jan. 6 | 8 p.m.
Corn Palace | Mitchell, S.D.
Webcast/Live Stats: Dakota Wesleyan Stretch Portal
Radio: 104.9 Max Country
Commentator: Parker Cyza
Concordia (11-5, 8-3) vs. Jamestown (11-3, 7-2)
Saturday, Jan. 9 | 4 p.m.
Friedrich Arena | Seward, Neb.
Webcast/Live Stats: Concordia Sports Network
Radio: 104.9 Max Country
Commentator: Parker Cyza
STATISTICAL BREAKDOWN
*2020-21 NAIA national rank in parentheses
-NOTE: 177 of 229 NAIA men's basketball programs have played at least one game this season.
Concordia
Scoring Offense: 82.8 (63rd)
Scoring Defense: 72.4 (48th)
FG% Offense: .458 (T-83rd)
FG% Defense: .442 (86th)
3-pt FG% Offense: .332 (T-104th)
3-pt FG% Defense: .344 (T-102nd)
Rebound Margin: +5.44 (47th)
Turnover Margin: +2.31 (49th)
Dakota Wesleyan
Scoring Offense: 76.5 (T-104th)
Scoring Defense: 66.7 (13th)
FG% Offense: .470 (T-63rd)
FG% Defense: .411 (38th)
3-pt FG% Offense: .350 (T-74th)
3-pt FG% Defense: .285 (22nd)
Rebound Margin: +0.50 (95th)
Turnover Margin: +2.42 (46th)
Jamestown
Scoring Offense: 87.2 (37th)
Scoring Defense: 73.9 (60th)
FG% Offense: .508 (T-16th)
FG% Defense: .443 (T-87th)
3-pt FG% Offense: .374 (T-41st)
3-pt FG% Defense: .351 (112th)
Rebound Margin: +11.43 (14th)
Turnover Margin: -0.79 (106th)
Protocols for fans
At Dakota Wesleyan: Visiting fans must be on a "guest list" in order to be admitted into games at the Corn Palace. The guest list is intended for family use only.
Concordia home games: Consistent with state directed health measures, Concordia will allow up to 50 percent capacity for its home games. Fans are encouraged to purchase advance tickets online (https://www.cune.edu/athletics/tickets). Tickets will also be sold at the door, provided capacity limits have not been reached via online sales.
--NOTE: All GPAC events require fans to wear face coverings. To review specific COVID-19 protocols for the GPAC and its member institutions, visit: http://www.gpacsports.com/gpac-covid19-fan-protocols.
Recent action
The perimeter shots did not fall last week. Concordia could not overcome an 8-for-41 3-point shooting performance at Peru State College in a 70-62 loss on Dec. 30. Most of the offense in that outing came from the duo of Carter Kent and Justin Wiersema (20 points apiece). While staying on the road, the Bulldogs then shot just 9-for-40 from beyond the arc three days later at Northwestern. This time Concordia made up for it on the defensive end and outlasted the Red Raiders, 81-74, in overtime. Head Coach Ben Limback's program has won five meetings in a row over Northwestern. Kent led the way with 17 points while Grant Wragge (nine points) and Thomas Young (eight points) made key contributions off the bench.
Kent on the doorstep of 1,000
Crete High School product Carter Kent has ramped up his scoring production over the last five games. During that stretch, Kent has averaged 18.6 points per game (most on the team) while shooting 44.1 percent (30-for-68) from the floor. An impact player from the moment he stepped on campus, Kent has totaled 980 points over 81 career games with the Bulldogs. With 20 more points, Kent will become the program's 32nd player to reach 1,000 career points. Kent has also totaled career figures of 277 rebounds, 184 assists, 150 3-point field goals and 67 steals.

On the road again
Concordia has had to get comfortable with life on the road. Since Nov. 21, the Bulldogs have played just once at home – Dec. 9 (82-71 win over Mount Marty). During the current stretch of eight road trips in nine outings, Concordia has been up and down with five wins and four defeats. On the plus side, the Bulldogs rebounded from a frustrating loss at Peru State College and claimed a win at the Bultman Center in Orange City, Iowa, for the second year in a row. Back-to-back GPAC road contests have gone to overtime with the other such occurrence resulting in an 89-87 loss at Jamestown on Dec. 18.

3-point shooting slump
The 3-point shooting numbers last week were not the norm for a Concordia squad that frequently puts four players on the court capable of making multiple 3-point shots each game. In last week's action, the Bulldogs went 8-for-41 from beyond the arc at Peru State and then followed it up with a 9-for-40 effort at Northwestern. Those rough performances slipped the team's season 3-point field goal percentage to 33.2. Concordia remains the NAIA national leader in total 3-point field goals made (173). In terms of percentage, the team's top outside shooter has been forward Ryan Holt (.417; 20-for-48).

Wiersema extends streak
Junior guard Justin Wiersema continues to be the team's most consistent performer. He posted 20 points at Peru State and 12 at Northwestern. The Loveland, Colo., native has notched at least 10 points in 18-straight games. He has played at a first team all-conference level. Among GPAC players, Wiersema ranks fourth in scoring (17.1), fourth in steals per game (1.63) and fifth in field goal percentage (.575). He stands a strong chance of moving up from honorable mention All-GPAC, as he earned in 2019-20. Wiersema has run his career point total to 743.

GPAC update
Dakota Wesleyan (8-0 GPAC) has created a bit of early separation at the top of the conference standings. Morningside (7-2) and Jamestown (7-2) come in next with Concordia (8-3) landing just behind them. Based on the GPAC preseason poll, Dakota Wesleyan (fifth) and Concordia (sixth) have outperformed expectations. The Bulldogs own a record of 15-3 over their last 18 games against GPAC opponents. That mark includes last season's run to a GPAC tournament title.
Scouting Dakota Wesleyan
Based on the preseason rankings, it's fair to say that Dakota Wesleyan was expected to take a step back this season. The program lost one of its all-time greats with the graduation of 2019-20 GPAC Player of the Year Ty Hoglund. Head Coach Matt Wilber just might have another conference player of the year candidate in guard Nick Harden, who leads the team in scoring (16.8), assists (4.55) and steals (1.73). The Tigers have been especially strong on the defensive end having allowed their opponents to shoot just 41.1 percent from the floor. DWU owns a signature road win over eighth-ranked Morningside. Wednesday's battle at the Corn Palace will be a rematch of the 2020 GPAC tournament title game.
Scouting Jamestown
Every conversation about Jamestown starts with dominant post Mason Walters, the GPAC leader in scoring (24.9) and rebounding (13.6). In the Jimmie overtime win over Concordia on Dec. 18, Walters went wild for 38 points, 11 rebounds and seven assists. His rise to stardom has helped make Head Coach Danny Neville's squad a player in the GPAC title race. Jamestown ranks among the nation's most efficient offensive teams with a field goal percentage of 50.8 (second in the GPAC). The Jimmies also are an impressive plus-11.4 in rebound margin per game. Jamestown enters the week having won four-straight games (and seven out of eight).
Looking ahead
The routine of Wednesday-Saturday games within the GPAC will characterize the final two months of the regular season. Concordia will be at Mount Marty on Wednesday, Jan. 13 before hosting eighth-ranked Morningside on Saturday, Jan. 16. The Bulldogs will play five of their final six regular season contests inside Friedrich Arena.
Projected Starters
Concordia (11-5, 8-3)
G – Carter Kent, Jr. (14.3)
G – Sam Scarpelli, Sr. (6.9)
G – Justin Wiersema, Jr. (17.1)
F – Ryan Holt, Sr. (7.8)
F – Gage Smith, Jr. (11.4)
Dakota Wesleyan (12-1, 8-0)
G – Nick Harden, Sr. (17.1)
G – Sawyer Schultz, So. (9.7)
F – Mason Larson, Jr. (13.2)
F – Koln Oppold, Jr. (13.3)
F – Jeffrey Schuch, Jr. (10.5)
Jamestown (11-3, 7-2)
G – Will Cordes, Fr. (9.6)
G – Marc Kjos, So. (11.4)
G – Allante' Pickens, Sr. (11.8)
F – Brady Birch, Sr. (5.4)
F – Mason Walters, So. (24.9)