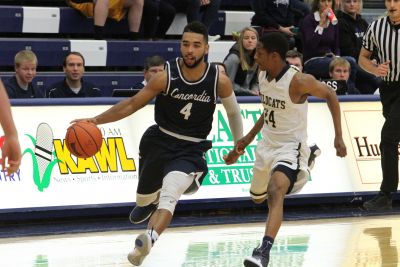 Concordia pulls away for 91-66 win over York College
Concordia made a statement on Saturday evening with a 91-66 men's basketball win over York College. The Bulldogs led 35-26 at the half and then erupted for 56 points in the second half. For the second straight night, Concordia scored at least 90 points. The Bulldogs improved to 2-0 on the year, while York slipped to 3-1. York defeated both Hastings College and Morningside College in the past week.
For the game, Concordia was 33-of-55 from the field for 60 percent. The Bulldogs connected on 13-of-24 shots (54.2 percent) from long range and were 12-of-15 at the foul line for 80 percent. Concordia held a 35-25 rebounding advantage and had 19 assists compared to just nine for the hosts from York.
A total of six players scored in double-figures for the Bulldogs in the win. Barrett Braun (Lakeside, Calif.) had a solid all-around game with a team-high 17 points to go along with six rebounds and four assists. The senior was 6-of-9 overall from the field and 5-of-8 from deep. Beau Smith (McKinney, Texas) had another big night with 15 points and seven rebounds, and Adam Vogt (Syracuse, Neb.) added 13 points and four assists. Porter Birtell (Madison, Neb.) had 12 points and six rebounds, while freshman point guard Joel Haywood (Lakewood, Colo.) chipped in with 12 points in just 17 minutes of action. Charles Dunbar (St. Louis, Mo.) added a spark off the bench for the Bulldogs with 10 points on 4-of-5 shooting from the field.
"Tonight was really a statement game for us as a team," remarked Bulldog head coach Grant Schmidt. "We wanted to start the season 2-0 at this tournament, because we haven't done that the past few years. We went to this tournament with one of our leading scorers (Tyler Byrd) battling an injury which has limited him so far. Our kids really battled the past two nights. We wanted to control the pace and rebound the basketball, and our guys took care of those things tonight."
York College was 21-of-52 from the field for 40.4 percent. The Panthers were just 6-of-23 from deep for 26.1 percent. Concordia struggled with turnovers, finishing with 19 on the night. York took advantage, scoring 23 points off those turnovers. However, Concordia had an answer for every rally attempt made by York on the night. Thad Varmall scored a game-high 19 for the Panthers in a losing effort. Marcus Johnson added 16 off the bench for York College.
"This is one of the sweeter wins we've had here in a while," added Schmidt. "I'm very pleased with how the guys played the past two nights. This is a great early accomplishment for this team."
Concordia travels to Orange City to take part in the Northwestern Classic on November 11 and 12.