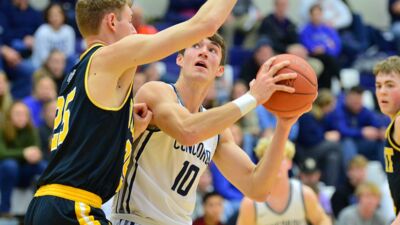 SEWARD, Neb. – There's no margin for error left as the situation relates to the chances of the Concordia University Men's Basketball team finishing inside the top four of the GPAC standings. The Bulldogs enter this week in fifth place and in need of a push over the final two weeks of the regular season. In last week's action, Concordia rode a hot start to a 91-63 blowout win at Midland before returning home for a 74-71 nail-biting loss to Dordt. Head Coach Ben Limback's squad sits at 15-10 overall (9-8 GPAC) with three games left on the regular season slate. The only action this week with be Wednesday's trip to Doane.
This Week
Wednesday, Feb. 8 at Doane (10-14, 7-9 GPAC), 7:45 p.m.
--Webcast | Live Stats | 104.9 Max Country | Location: Haddix Center (Crete, Neb.)
Saturday, Feb. 11 – Bye
By the numbers
· The metrics that are released by the NAIA paint a picture of where the Bulldogs stand in relation to a potential national tournament berth. In late January, Concordia stood at No. 49 in the official RPI and had played the 33rd toughest schedule. In addition, the Bulldogs are rated 10th in the North-Central "ARC Rankings" that were released on Jan. 29. The top four teams in region are all from the GPAC: Jamestown, Morningside, Northwestern and Dordt. In other words, Concordia has work to do in order to strengthen its season profile leading up to selection day. The GPAC is awarded two automatic bids to the national tournament.
· Each of the Bulldogs' wins during the recent four-game streak came by margins of 18 or more points. Concordia hammered Midland (9-16, 3-14 GPAC) by opening the contest on a 15-0 spurt with all 15 points coming from the combination of Brad Bennett and Noah Schutte. The Bulldogs held a double digit lead for 37:19 of game time while shooting 48.5 percent (33-for-68) from the floor and 43.3 percent (13-for-30) from 3-point range. Schutte finished with 22 points and eight rebounds on 8-for-11 shooting from the floor. Garrett Seagren equaled Schutte with a career high 22 points. Meanwhile, Bennett recorded 16 points (4-for-5 from 3-point range) and Gage Smith just missed a triple-double in posting eight points, 11 assists and 11 rebounds. The Bulldogs swept the season series from the Warriors.
· In a game featuring many twists and turns, Concordia saw an early 11-point lead shift to a late 11-point deficit in its matchup with Dordt. Gage Smith spearheaded a comeback effort that featured a 10-2 run. Down 74-71 in the closing seconds, the Bulldogs misfired on three attempts from beyond the arc. The Defenders (19-5, 11-5 GPAC) escaped with their first win inside Friedrich Arena since December 2013. They did so despite a season high 28 points from Smith, who also grabbed six rebounds and four steals. Schutte posted 19 points and nine rebounds as the only other Concordia player in double figures. Dordt got 18 points apiece from Bryce Coppock and Jacob Vis. The Bulldogs had won the season's first meeting, 87-72, in Sioux Center, Iowa.
· Schutte enters this week six points shy of becoming the program's 34th all-time player to score 1,000 points for a career. He's also totaled 397 rebounds in 77 career collegiate games. The Laurel, Neb., native would seem to be a virtual lock for First Team All-GPAC honors at this point. Among conference players, he ranks sixth in scoring average (18.4), ninth in free throw percentage (.786), 10th in field goal percentage (.542), 12th in 3-point field goal percentage (.411) and 12th in rebounding average (6.3). Schutte is on a run during which he has totaled at least 19 points in five-straight games.
· This past weekend, Smith moved up a rung to No. 18 on the program's all-time scoring list with 1,285 career points (leaping Justin Wiersema, 1,276). Smith is also on the verge of jumping up from No. 3 on the program rebound list. His current rebound total stands at 860, putting him behind only Matt List (928) and Chandler Folkerts (868) in school annals. In addition, Smith ranks 15th all-time in assists (255). The Elizabeth, Colo., native is a shining example of a player who has improved by leaps and bounds over time. He went from averages of 2.3 and 4.7 points per game, respectively, over his first two seasons to an all-conference player by year three when he averaged 13.9 points and 9.2 rebounds per contest.
· The senior class that was honored prior to tipoff versus Dordt included Garrett Seagren, Kelly Vyhnalek and Skyler Woita, as well as student manager Braedon Thompson. In terms of on-court production, Seagren has played the most significant role. A transfer from Chaminade University in Hawaii, Seagren has started all 25 games this season and is averaging 5.9 points while serving as the team's top backcourt defender. A Seward High School product, Vyhnalek has worked his way into the rotation as a senior and is averaging 2.6 points and 2.3 rebounds per game. Woita has appeared in 13 games this season.
The opponent
Doane has had a rollercoaster of a season that has seen it win on the home court of the first-place team in the GPAC (Jamestown) and lose by 15 points to the last place team in the league (Midland). Of course not having the services of standout big man Josiah Gardiner this season has played a role in the team's inconsistency. Head Coach Ian McKeithen's squad has two main stars in 5-foot-10 guard Brady Timm and 6-foot-8 forward Alec Oberhauser. Timm ranks third in the conference in scoring at 20.0 points per game. As a team, Doane has averaged 70.9 points per game (44.8 percent shooting) and has allowed 74.3 points per contest (46.2 percent shooting). Concordia won this season's meeting in Seward, 74-61, but has had its share of shooting struggles when playing at the Haddix Center. The 2021-22 matchup in Crete was a grinder won by Doane, 54-50.
Probable starters
Concordia (15-10, 9-8 GPAC)
G – Brad Bennett (10.7)
G – Garrett Seagren (5.9)
G – Jaxon Weyand (3.8)
F – Noah Schutte (18.4)
F – Gage Smith (12.8)
Head Coach: Ben Limback (294-281, 19th season overall; 179-123, 10th season at CUNE)
Doane (10-14, 7-9 GPAC)
G – David Mascarenas (3.8)
G – Brady Timm (20.0)
G/F – Caleb Hrabik (3.9)
F – Alec Oberhauser (17.1)
F – Cooper Sheldon (7.5)
Head Coach: Ian McKeithen (8th season at Doane)
Next week
The Bulldogs will wrap up the regular season next week when they are slated to host Briar Cliff on Feb. 15 and then make a road trip to Dakota Wesleyan on Feb. 18. Concordia ended last season with those same two opponents as it wound up sharing the GPAC regular season title.