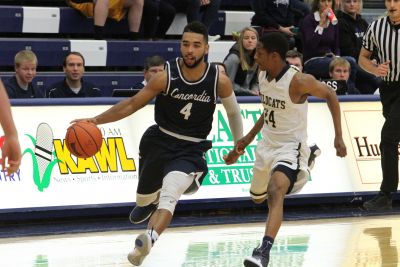 Concordia picks up key conference win, 71-66, over Sioux Falls
Concordia University picked up a key 71-66 GPAC men's basketball win over the University of Sioux Falls on Saturday in Seward. The Bulldogs moved to 15-9 overall and stayed in fourth place in the conference standings at 9-5. Sioux Falls, currently in second place in the GPAC, dropped to 18-7 overall and 10-4 in conference play.
The first half was close throughout. Concordia led by as many as seven, and USF led by as many as five in the opening 20 minutes. Concordia held a narrow 36-34 lead at halftime. Sioux Falls was 14-of-25 from the field for 56 percent in the opening half, but solid free throw shooting kept Concordia in the lead. The Bulldogs were a perfect 9-of-9 at the charity stripe in the opening 20 minutes.
Concordia opened the second half on an 11-1 run to grab a 47-35 lead with 15 minutes to play. Kelly Hubbard had a solid game for USF, and he kept the Cougars in the game. USF chipped away at the Concordia lead and came all the way back to take a 62-58 lead with just under five minutes remaining in regulation.
Tyler Byrd (Bennington, Neb.) connected on a pair of free throws to pull the Bulldogs within two at 62-60, and Charles Dunbar (Florissant, Mo.) hit a jumper on the next possession to tie the game at 62-62 with just over three minutes to play.
USF reclaimed the lead on a layup by Skyler Bloch, but Byrd responded with a big 3-pointer to give Concordia a 65-64 lead with less than two minutes remaining. On USF's next possession, Hubbard scored following an offensive rebound to put the Cougars back on top 66-65. Concordia again answered, however, and Porter Birtell (Madison, Neb.) scored in the paint to put the Bulldogs in front 67-66 with just 50 seconds remaining.
Following a USF miss, Dunbar hit a pair of free throws to increase the Concordia lead to three (69-66) with 20 seconds left in the game. USF looked to answer with a quick score, but Hubbard turned it over to give the ball back to the Bulldogs. Dunbar was again fouled and hit both free throws for the final score of 71-66.
Concordia was 21-of-50 from the field for 42 percent. The Bulldogs went just 5-of-17 (29.4 percent) from deep, but free throw shooting was the story of the game. Both teams were great from the foul line. USF was 14-of-17 for 82.4 percent, but Concordia went 24-of-25 from the line for 96 percent in the victory. USF held a 32-27 rebounding advantage. The Cougars had 11 turnovers, while Concordia turned it over just seven times.
"This certainly was one of our best efforts of the year," remarked Concordia head coach Grant Schmidt. "We had so many guys play huge roles tonight. To go 24-of-25 at the line and turn it over just seven times in a critical game like this was just huge. We really shook off last week, and the past two wins have been total team efforts."
Sam Huebner (Aurora, Colo.) scored a team-high 17 points for Concordia. Byrd added 15, and Ryan Shrum (Allen, Texas) scored 11. Dunbar finished with 16 points and a game-high seven assists off the bench for Concordia in the win.
"We showed a lot of fight, and this was a big win for us today," said Dunbar. "We focused on defense all week in practice, and we just wanted to build momentum after a big win the other night. We had a tough week last week, but we're not giving up. We're focused and ready to play."
Hubbard scored a game-high 30 points for Sioux Falls on 13-of-20 shooting from the field. Hubbard was the only player in double figures for the Cougars, however, and USF was just 10-of-26 (38.5 percent) from the field in the second half.
Concordia hosts Briar Cliff University on February 9. The Chargers are just ahead of Concordia in the GPAC standings with a 10-5 record. Tip is scheduled for 8 p.m. at the Health, Human Performance and Athletic Center.