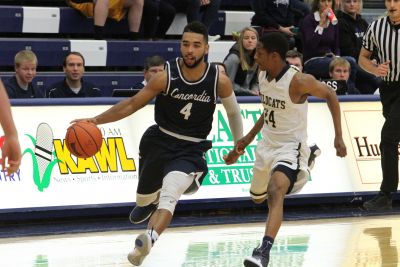 Concordia outlasts Nebraska Wesleyan, 70-65
Adam Vogt and Beau Smith combined for 40 points, and the Concordia University men's basketball team picked up a key 70-65 victory over Nebraska Wesleyan on Tuesday evening in Seward. Wesleyan led for much of the contest, but the Bulldogs outscored the Prairie Wolves 40-33 in the second half to pick up the win. Concordia improved to 4-2 overall and 1-1 in GPAC play. NWU fell to 2-1 overall and 0-1 in GPAC play.
The visiting Prairie Wolves jumped out to an early 7-2 lead in the opening minutes of the contest. Concordia came back to take a 14-13 lead on Vogt's (Syracuse, Neb.) first 3-pointer of the night, but Wesleyan came right back with a 7-0 run to grab a 20-14 lead with just over 10 minutes to play in the half. NWU built the lead to eight at 25-17 on a 3-pointer by Eric Jackson with eight minutes left in the half, but the Bulldogs managed to hang around. A contested 3-pointer by Vogt pulled Concordia back within two at 32-30 heading into halftime.
Concordia tied the game at 32-32 on the opening possession of the second half, but again, Wesleyan had an answer. The Prairie Wolves used a 10-4 run to grab a 42-36 lead with 15 minutes left in regulation. Concordia then responded with an 8-2 run to tie the game once again at 44-44. The Bulldogs finally claimed the lead (49-48) with just under 10 minutes remaining on a 3-pointer by Joel Haywood (Lakewood, Colo.).
There were multiple ties and lead changes for the next several minutes, but Concordia took the lead for good on a key 3-point play by Porter Birtell (Madison, Neb.). Birtell missed a layup, but tipped in his miss and was fouled on the play. Birtell hit the free throw to give Concordia a 61-58 lead with four minutes to play.
A pair of made free throws by Beau Smith (McKinney, Texas) increased the Bulldog lead to five (63-58) with three minutes to play. A layup by Jackson pulled the Prairie Wolves back within three at 63-60. Brent Houchin (Bruning, Neb.) connected on a pair of free throws to push the lead back to five, but Bryce Arp hit two free throws for NWU to again trim the Bulldog lead to three at 65-62. With a minute to play, Vogt hit another 3-pointer, this one at the end of the shot clock, to push the Concordia lead to six at 68-62.
Andy Schweitzer hit a 3-pointer for NWU to make the score 68-65 with 50 seconds remaining. Concordia missed on their next shot attempt, and NWU's Nick Dinan was fouled with 16 seconds remaining. Dinan missed the front end of the one and one, however, and Concordia secured the rebound. A Bulldog turnover gave Wesleyan another chance to tie the game, but Mitch Liberty missed a 3-pointer with just five seconds remaining. Beau Smith secured the rebound for Concordia and was fouled. Smith hit both free throws for the 70-65 final.
Following a tough loss at Mount Marty to open conference play, Coach Grant Schmidt talked about the importance of Tuesday's win. "Our team really showed a lot of resolve tonight," remarked Schmidt. "We never really had control of that game, but we responded very well. In a game like this, you need to have guys really step up and make an impact. Adam Vogt, Brent Houchin and Beau Smith were fantastic for us tonight, and they really sparked us as the game went on."
Concordia was 24-of-49 from the field on the night for 49 percent. The Bulldogs were 11-of-23 from deep for 47.8 percent and a perfect 11-of-11 at the foul line. All 11 of Concordia's free throw attempts came in the second half. The Bulldogs held a 30-21 rebounding advantage in the win.
Vogt had a huge night for the Bulldogs off the bench. He scored a game-high 21 points on 7-of-9 shooting from long range. Smith added 19 points on 7-of-13 shooting from the field, and Houchin chipped in with 12 points and a game-high seven rebounds. Joel Haywood struggled from the field (3-of-11) but totaled eight points and a game-high five assists. After the game, Vogt discussed his big night.
"We weren't happy after the Mount Marty game, but our coaches said a lot in practice and shoot around that hit home with our team," noted Vogt. "My teammates did a good job of finding me tonight, and I shot the ball well. Let's hope I can keep that going, but as a team, we need to keep that same effort and intensity moving forward."
Andy Schweitzer scored 17 points on 7-of-9 shooting to lead Nebraska Wesleyan. Trevor Johnson added 13 for the Prairie Wolves.
"That Mount Marty game is in the past for us," added Schmidt. "Our kids found out tonight how focused and passionate they need to be for 40 minutes in order to win games. We are maturing as a team. We showed some character and found a little bit of identity tonight, so I'm pleased with that."
Concordia travels to Midland University on November 30.