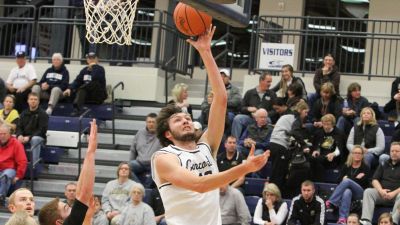 MITCHELL, S.D. – The (RV) Concordia men's basketball team was defeated 80-92 by the eighth-ranked Tigers of Dakota Wesleyan. Robby Thomas and Jamie Pearson each put up 20 points while Micah Kohlwey tallied 14 on Saturday afternoon in the Corn Palace.
Concordia falls to 6-3, 2-3 GPAC on the season while the GPAC's top-ranked Dakota Wesleyan improves to 8-3 overall and 4-1 in the conference.
On the game head coach Ben Limback said, "I thought we showed mental toughness during the first half and over came...mentally we handled it and tied the game at half. I like the way we ended the first half."
During the first half of play, the Bulldogs fought back from a 10 point deficit with just under eight minutes to play. Going on a 9-2 run over two minutes, Concordia cut Dakota Wesleyan's lead to three, forcing a Tiger timeout. The Bulldogs never got ahead of the Tigers for the remainder of the opening half, but kept chipping away to go into halftime knotted up at 41.
With 12:21 left to play, the Bulldogs tied the game for the second time in the last stanza. However, the Tigers hit four three pointers to help a 17-1 onslaught. Dakota Wesleyan controlled the rest of the game to lock in the 12 point victory.
Limback noted, "In the second half we couldn't really find a flow to get the offense going. I thought our offensive struggles affected the defensive level of intensity which then allowed them to go on a run and we just didn't answer...we did some things that beat ourselves and they're a good team and you can't beat yourself against a good team."
As a team, the Bulldogs shot .403 from the field and .280 from behind the arc. Going 19-22 from the charity stripe, Concordia held the edge in free throw percentage, shooting .864 compared to Dakota Wesleyan's .640.
The Tigers' 3-pointer game was the key in their victory. DWU was able to get 40 shots off from behind the 3-point range, shooting 35 percent. The host team shot .456 from the field during the contest.
Leading the Bulldogs were Thomas and Pearson who each tallied 20 points. Thomas added nine rebounds to his line while Pearson grabbed seven. Kohlwey went 4-5 from the field and 4-4 from the free throw line to contribute 14 points. The senior also grabbed four rebounds and one steal.
Dordt College (6-5, 2-2 GPAC) will be the Bulldog's next opponent. The Defenders will travel to Walz Arena on Wednesday, Dec. 9 for an 8 p.m. tipoff.