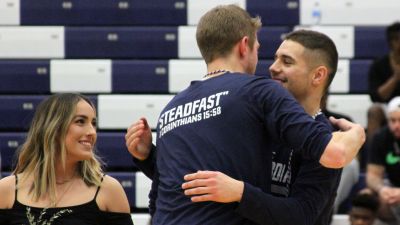 SEWARD, Neb. – Its season will be on the line on Wednesday night when the Concordia University men's basketball team takes the court at the Bultman Center in Orange City, Iowa. Head coach Ben Limback's sixth-seeded squad will battle third-seeded Northwestern in the third matchup of the season between the two sides. The Red Raiders won the first two meetings, 111-103 in Orange City and 83-73 in Seward.
GAME INFO
Wednesday, Feb. 21
Concordia (17-12, 8-10) at No. 10 Northwestern (23-5, 13-5), 8 p.m.
Orange City, Iowa | Bultman Center
Admission: $8 for adults, $3 for students (GPAC students free with ID)
Webcast: Stretch Internet
Concordia would be happy to regain the offensive stroke it showed on Dec. 15 in Orange City. The Bulldogs lost despite shooting 54.7 percent from the floor while going 15-for-29 (.517) from 3-point range. Tanner Shuck and Kyle Pierce both tallied at least 20 points. That outing came during a 12-3 start to the season during which Concordia shot 50 percent or better eight times. Since then, the Bulldogs have gone 5-9 and have shot below 50 percent 11 times, including eight outings in a row.
When star sophomore Clay Reimers can avoid foul trouble, he's been one of the GPAC's top players. He leads the conference in rebounding (8.8 per game) and double-doubles (10). He's been a consistent source of production while leading also leading the team in scoring (15.5) and blocked shots (38). In last week's loss to 17th-ranked Dakota Wesleyan, Reimers totaled 17 points, 12 rebounds and six rejections. He's the leader of a sophomore group including seven players averaging more than 10 minutes per game. They are looking to end a nine-year program drought without a postseason win.
Concordia knows it has its hands full with a Northwestern squad that ranks fourth nationally in scoring average (91.7) behind the GPAC's top two scorers, Nathan Wedel (21.3) and Colton Kooima (21.2). Kooima has been nightmare for the Bulldogs. He poured in a school record 51 points in the Dec. 15 meeting and then 37 at Walz Arena on Feb. 3. Not only does Wedel lead the team in scoring, he also tops the Red Raiders in rebounds, assists and steals. Head coach Kris Kover's squad missed out on a chance to share the conference regular-season title when it lost last week at Dakota Wesleyan. It's the only defeat Northwestern has suffered in its last seven outings.
The winner will move on to Saturday's semifinal round and play either second-seeded Briar Cliff (24-6, 13-5 GPAC) or seventh-seeded Doane (13-17, 7-11 GPAC). The highest remaining seeds earn the right to host each round.
2018 GPAC Men's Basketball Tournament
Quarterfinals – Wednesday, Feb. 21
No. 8 Dordt (12-18, 6-12) at No. 1 Morningside (23-6, 14-4), 7 p.m.
No. 5 Hastings (20-10, 10-8) at No. 4 Dakota Wesleyan (21-9, 11-7), 8 p.m.
No. 6 Concordia (17-12, 8-10) at No. 3 Northwestern (23-5, 13-5), 8 p.m.
No. 7 Doane (13-17, 7-11) at No. 2 Briar Cliff (24-6, 13-5), 7 p.m.
Semifinals – Saturday, Feb. 24
No. 1/8 winner vs. No. 4/5 winner, Time TBA
No. 3/6 winner vs. No. 2/7 winner, Time TBA
Championship – Feb. 27
Hosted by highest remaining seed, Time TBA
Projected lineups
Concordia (17-12, 8-10)
G – Jake Hornick: 14.3 ppg, 5.3 rpg, 4.1 apg, .470 fg%, .354 3-pt fg%, .798 ft%
G – Cordell Gillingham: 8.9 ppg, 4.3 rpg, 2.9 apg, .498 fg%, .349 3-pt fg%, .619 ft%
G – Tanner Shuck: 13.1 ppg, 2.8 rpg, 2.0 apg, .439 fg%, .373 3-pt fg%, .716 ft%
F – Kyle Pierce: 10.1 ppg, 6.1 rpg, 0.9 spg, .442 fg%, .331 3-pt fg%, .810 ft%
F – Clay Reimers: 15.5 ppg, 8.8 rpg, 1.4 bpg, 2.1 apg, .608 fg%, .409 3-pt fg%, .662 ft%
Northwestern (23-5, 13-5)
G – Riley Francis: 12.1 ppg, 6.2 rpg, 1.7 apg, .502 fg%, .360 3-pt fg%, .813 ft%
G – Colton Kooima: 21.2 ppg, 3.8 rpg, 3.5 apg, .452 fg%, .387 3-pt fg%, .910 ft%
G – Parker Mulder: 6.9 ppg, 3.5 rpg, 2.7 apg, 1.0 spg, .573 fg%, .444 3-pt fg%, .857 ft%
G – Nathan Wedel: 21.3 ppg, 6.4 rpg, 3.9 apg, 1.5 spg, .589 fg%, .392 3-pt fg%, .836 ft%
F – Spencer Pauley: 2.8 ppg, 4.2 rpg, 0.9 bpg, .500 fg%, .676 ft%