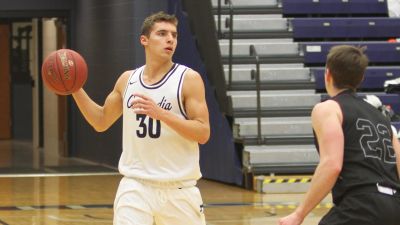 SEWARD, Neb. – Perhaps a dip outside of conference play will provide a cure to what has been ailing the Concordia University men's basketball team since the calendar flipped to 2018. In last week's action, the Bulldogs went up against the GPAC's first place team (Briar Cliff) and its last place team (Mount Marty) and came up empty in large part because of a recent shooting slump. A Wednesday trip to Lawrence, Kan., is up next for fifth-year head coach Ben Limback's squad.
This week's schedule
Wednesday, Jan. 17 at Haskell Indian Nations University (5-14), 7 p.m.
Saturday, Jan. 20 vs. Dordt (9-12, 3-6 GPAC), 4 p.m.
Wednesday's road game can be seen live online via Haskell's Stretch Internet portal. Saturday's home contest will be carried by 104.9 Max Country radio and by the Concordia Sports Network.
Concordia would simply like to get back to playing the way it did prior to New Year's Day. It ended 2017 by shooting 50 percent or better from the field in five-straight games. During their three-game skid, the Bulldogs have shot 36.6 percent from the field. Backcourt standouts Jake Hornick (.326) and Tanner Shuck (.261) have shot well below their norms since ringing in 2018. In a home meeting with the Lancers on Nov. 21, Concordia won easily (105-63) while shooting 55.4 percent from the floor. It dipped a full 20 percent in this past weekend's frustrating defeat in Yankton, S.D.
Kyle Pierce's continued production has been a positive. The native of Haxtun, Colo., has taken off as a senior. Last week he posted lines of nine points, nine rebounds, four assists, two blocks and two steals versus Briar Cliff and nine points, 13 rebounds and two steals at Mount Marty. Pierce is now averaging 11.4 points and 6.9 rebounds, far exceeding his production in his first two seasons at Concordia. He stands as the team's fourth leading scorer behind Clay Reimers (16.1), Hornick (15.7) and Shuck (13.9).
Haskell Indian Nations visited Walz Arena last season with the result being a 104-72 Bulldog victory. The Indians are 0-4 this season against GPAC opponents having dropped games against Briar Cliff, Doane (twice) and Midland. Haskell likes to hoist the 3-point shot. It has made 197 of them (13th nationally in 3-point field goals per game) this season. Its best outside shooter has been Tristan Keah-Tigh, who knocks down treys at a 39.8 percent clip.
Dordt enters the week hoping to put a stop to a four-game conference losing streak. Though the Defenders are just 9-12, they have proven capable of going on the road and winning. Dordt has claimed GPAC road victories over then No. 10 Dakota Wesleyan and Midland and also took then top-rated Northwestern to overtime in Orange City. Active defensively, the Defenders rank sixth nationally in steals per game (9.7). They also possess a variety of scoring options with a roster including eight players averaging more than 7.0 points per game.
The Bulldogs will be on the road for three games next week. Concordia is scheduled to play at Hastings (14-7, 4-5 GPAC) on Jan. 24 before shifting focus to the 67th annual Concordia Invitational Tournament (Jan. 26-27), set to take place in Mequon, Wis.
Projected lineups
Concordia (12-6, 5-5)
G – Jake Hornick: 15.7 ppg, 5.4 rpg, 4.3 apg, 0.9 spg, .495 fg%, .435 3-pt fg%, .791 ft%
G – Cordell Gillingham: 7.3 ppg, 4.7 rpg, 3.3 apg, 0.8 spg, .467 fg%, .326 3-pt fg%
G – Tanner Shuck: 13.9 ppg, 2.8 rpg, 1.9 apg, .428 fg%, .386 3-pt fg%, .720 ft%
F – Kyle Pierce: 11.4 ppg, 6.9 rpg, 0.8 bpg, .461 fg%, .333 3-pt fg%, .806 ft%
F – Clay Reimers: 16.1 ppg, 9.1 rpg, 2.4 apg, 1.1 bpg, .610 fg%, .653 ft%
Haskell Indian Nations (5-14)
G – Bryon Elledge: 8.3 ppg, 3.2 apg, 2.6 rpg, 1.3 spg, .305 fg%, .805 ft%
G – Tristan Keah-Tigh: 11.1 ppg, 2.0 rpg, 2.0 apg, .452 fg%, .398 3-pt fg%, .872 ft%
F – Macauley Brown: 9.6 ppg, 5.7 rpg, 1.3 apg, .541 fg%, .667 ft%
F – Nakia Hendricks: 12.1 ppg, 8.6 rpg, 1.4 bpg, .506 fg%, .400 3-pt fg%, .632 ft%
F – Keith Moore: 9.4 ppg, 3.1 rpg, 1.3 apg, .409 fg%, .357 3-pt fg%, .793 ft%
Dordt (9-12, 3-6)
G – Chad Barkema: 8.0 ppg, 4.0 rpg, 0.9 spg, .541 fg%, .368 3-pt fg%, .600 ft%
G – Chandler Brunsting: 8.0 ppg, 4.1 rpg, 2.3 apg, 1.4 spg, .496 fg%, .413 3-pt fg%, .789 ft%
G – Kobe Critchley: 4.0 ppg, 1.8 apg, 1.6 rpg, .528 fg%, .538 3-pt fg%, .813 ft%
G – Ben Gesink: 7.1 ppg, 2.7 rpg, 1.6 apg, .479 fg%, .529 ft%
G – Marcus Winterfeld: 12.6 ppg, 3.7 rpg, 1.6 apg, .503 fg%, .377 3-pt fg%, .816 ft%