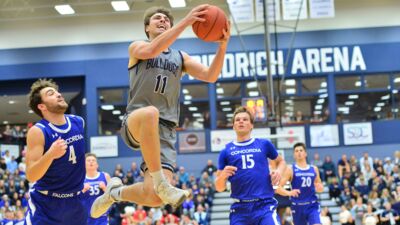 SEWARD, Neb. – The final week of regular season action has arrived for Concordia University Men's Basketball and for programs across the NAIA. The Bulldogs accomplished their aim on Feb. 8 in pulling out a close one, 85-79, at Doane in the lone contest of the week. Following a weekend bye, Concordia will finish its home slate on Wednesday by welcoming Briar Cliff to Friedrich Arena. Then on Saturday, the Bulldogs will invade the Corn Palace for a matchup with Dakota Wesleyan. The best Head Coach Ben Limback's squad (16-10, 10-8 GPAC) can hope for is to lock up the league's No. 5 seed. The top four in the current GPAC standings are Jamestown (15-4), Dordt (13-5), Morningside (13-5) and Northwestern (12-6).
This Week
Wednesday, Feb. 15 vs. Briar Cliff (13-12, 7-11 GPAC), 7:45 p.m.
--Webcast/Live Stats | 104.9 Max Country | Location: Friedrich Arena (Seward, Neb.)
Saturday, Feb. 18 at Dakota Wesleyan (12-14, 8-10 GPAC), 3:45 p.m.
--Webcast | Live Stats | 104.9 Max Country | Location: Corn Palace (Mitchell, S.D.)
By the numbers
· It would appear that the Bulldogs still have a shot at earning an at-large national tournament bid (provided they come up short of winning the GPAC tournament). Concordia likely needs to win twice this week and then perhaps reach at least the conference semifinals, in order to strengthen its profile. One factor working in the Bulldogs' favor is a solid strength of schedule ranking of 33rd (as of late January). Concordia landed at No. 49 in the official RPI released by the NAIA on Jan. 29. Last season, three at-large berths were awarded to GPAC teams. Concordia and Briar Cliff were the automatic qualifiers while Dordt, Jamestown and Northwestern gained entry via at-large selection. Official national qualifiers for the NAIA Men's Basketball National Championship tournament are scheduled to be announced at 7 p.m. CT on March 2.
· It always seems to come down to the wire when Concordia makes a visit to the Haddix Center in Crete. In last week's clash, the Bulldogs saw a 10-point lead transition into a nine-point deficit before the contest became a white-knuckler down the stretch. During the game defining push, Noah Schutte and Garrett Seagren combined to score 20 of the team's 22 points while giving Concordia an 80-77 with just over a minute to play. The Bulldogs held Doane (10-16, 7-11 GPAC) to one basket the rest of the way and sealed the win by making 5-of-6 free throw tries in the final 30 seconds. As part of the victory, Schutte became the 34th player in program history to reach 1,000 career points. He finished the game with 27 points and 10 rebounds while going 11-for-17 from the floor. Seagren backed him up with 20 points and three steals while Brad Bennett (16) and Gage Smith (12) also hit double figures. Concordia shot an impressive 62.5 percent (35-for-56) as a team.
· Schutte's career point total now stands at 1,021. He's the second Bulldog this season to eclipse 1,000 points, joining teammate Gage Smith (1,297). Eight other Concordia players have hit that mark during Limback's tenure that began with the 2013-14 campaign: Chandler Folkerts (1,963), Carter Kent (1,699), Tanner Shuck (1,579), Justin Wiersema (1,276), Brevin Sloup (1,246), Eli Ziegler (1,194), Robby Thomas (1,170) and Joel Haywood (1,091). As for Schutte, he has also produced 407 rebounds while making 369-of-670 shots (.551) from the floor in his career. Schutte enters this week having scored at least 19 points in six-straight games.
· While Gage Smith ranks 18th on the program's all-time scoring list, he's on the verge of cracking the top two in rebounding. The Elizabeth, Colo., native enters this week with 865 career rebounds to his credit. On the program's career list, that total stands behind only Matt List (928) and Chandler Folkerts (868). It's true that Gage Smith has had the benefit of a fifth year of college basketball, but he played limited minutes as a freshman in 2018-19 when he snared 25 rebounds. His respective year-by-year rebound totals since then have been 117, 238, 254 and 231. In addition, Gage has climbed to No. 15 on the all-time assists list with 260.
· The offensive game of Seagren has taken off during the second half of the season. Since the middle of January, the Oakland, Neb., native has reset his career high scoring total twice. Notably, he scored 18 at Jamestown on Jan. 14, poured in 22 at Midland on Feb. 1 and then racked up 20 last week at Doane. Over the past month, Seagren's scoring average has gone from 4.1 to 6.4 currently. In addition, the 6-foot-2 transfer from Chaminade University routinely draws the opposing team's top backcourt scorer on the defensive end. Seagren, Schutte and Gage Smith are the three players who have started all 26 games this season.
· At least one win this week would clinch an above .500 conference mark for the fourth season in a row. Since the start of the 2019-20 campaign, Concordia has gone a combined 51-27 in GPAC regular season play. Now in year 10 of his head coaching tenure with the Bulldogs, Limback owns a record of 98-96 in GPAC regular season games. Major highlights during that time have come in the form of GPAC tournament championships in 2020 and 2022 and a conference regular season crown in 2021-22. The program's history includes four GPAC tournament titles, including two that came under Grant Schmidt (2003 and 2005). The GPAC's first season of basketball was 2000-01.
The opponent
Briar Cliff brings back all of its starters from last year's team that shared the GPAC regular season title with Concordia. This season hasn't gone as expected with the Chargers still fighting to ensure a spot in the GPAC tournament – they are currently tied for seventh with Doane. However, Briar Cliff remains dangerous and has the ability to light it up from 3-point range. Jaden Kleinhesselink shoots 47.5 percent from 3-point range for a team that makes 10.4 treys per game. Notably, the Chargers own a nonconference win over seventh-ranked William Penn University (Iowa) and played competitively this past weekend with No. 9 Jamestown (76-69 loss). Briar Cliff is averaging 76.6 points per game and shooting 47.8 percent from the floor while allowing its opponents 73.8 points and a shooting percentage of 48.6. The Bulldogs won this season's meeting in Sioux City, 78-58, and took last year's matchup in Seward, 74-73, thanks to Tristan Smith's alley-oop layup on a full-court pass from Carter Kent at the buzzer.
Dakota Wesleyan has had an up-and-down ride but does own a win at Jamestown and is 5-3 at home this season. The Tigers are positioned to be on the road for the GPAC quarterfinals, sitting sixth in the current conference standings. Before welcoming Concordia to town on Saturday, Head Coach Matt Wilber's squad will host No. 25 Morningside on Wednesday. The team's brightest star is fifth-year forward Koln Oppold, a returning First Team All-GPAC honoree who is averaging 14.4 points and 6.8 rebounds per game. The Tigers are averaging 72.5 points per game and shooting 43.2 percent from the floor. Their opponents average 73.9 points and shoot 47.4 percent from the field. Only one team in the nation (Jamestown) has hoisted more 3-point tries than the 795 DWU has fired this season. It has made 33.7 percent of them.
Probable starters
Concordia (16-10, 10-8 GPAC)
G – Brad Bennett (10.9)
G – Garrett Seagren (6.4)
G – Jaxon Weyand (3.7)
F – Noah Schutte (18.7)
F – Gage Smith (12.7)
Head Coach: Ben Limback (295-281, 19th season overall; 180-123, 10th season at CUNE)
Briar Cliff (13-12, 7-11 GPAC)
G – Nick Hoyt (7.5)
G – Jaden Kleinhesselink (13.7)
G – Matthew Stilwill (11.9)
G – Quinn Vesey (11.5)
F – Kyle Boerhave (10.2)
Head Coach: Mark Svagera (6th season)
Dakota Wesleyan (12-14, 8-10 GPAC)
G – Jakob Dobney (11.7)
G – Kallan Herman (12.8)
G – Blaze Lubbers (10.0)
F – Alan Kikwaki (4.8)
F – Koln Oppold (14.4)
Head Coach: Matt Wilber (10th season)
Next week
The GPAC tournament will get started with the quarterfinal round on Wednesday, Feb. 22. The semifinals will be held on Feb. 25 with the championship game to follow on Feb. 28. Conference tourney pairings will be announced on Saturday after all league games are completed.