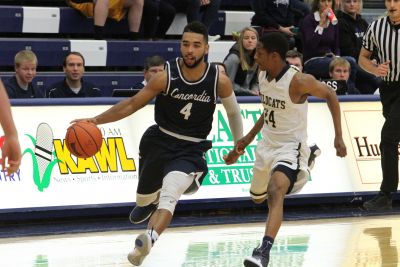 Concordia falls to Mount Marty in conference opener, 61-51
Mount Marty handed Concordia a 61-51 men's basketball loss on Saturday in the first conference game for both teams. The host Lancers moved to 3-1 overall (1-0 GPAC) with the victory. The recent struggles for Concordia continued, as the Bulldogs dropped to 3-2 overall (0-1 GPAC).
If was an offensive struggle for both teams, as each team finished with 16 made field goals in the contest. Turnovers were also a problem for Concordia, however, as the Bulldogs totaled 18 in the loss. Concordia was 16-of-50 from the field on the day for 32 percent. The Bulldogs were just 5-of-17 (29.4 percent) from behind the arc and 14-of-20 (70 percent) at the foul line.
Aside from early leads of 8-4 and 8-6, Mount Marty led the rest of the way. Mount Marty seized a 13-10 lead with just under 10 minutes to play in the opening half on a 3-pointer by Tom Kahler. The Lancers maintained a slim lead for the rest of the half. A pair of made free throws by Jeff Viereck gave Mount Marty a 32-25 lead heading into halftime.
Mount Marty scored the first three points of the second half to build a 10-point advantage at 35-25. Midway through the second half, Concordia got back into the game. Trailing 43-36 with 10 minutes remaining, the Bulldogs used a 10-4 run to climb back within one (47-46) with just four minutes to play. The Lancers had an answer, however, and pushed the lead back to six (55-49) with a 3-point play by Spencer Yackley with just over a minute remaining in regulation. The Lancers hit 6-of-8 free throws down the stretch to seal the win.
The Lancers connected on 16-of-48 shots from the field for 33.3 percent. Mount Marty was just 2-of-9 from deep for 22.2 percent and 27-of-36 (75 percent) at the foul line. Both teams had 37 rebounds on the night.
Yackley led the way for the Lancers with 16 points on 6-of-12 shooting from the field. Austin Harms added 14 points, while Mitch Ackelson had eight points and a team-best 11 rebounds.
Porter Birtell (Madison, Neb.) scored a team-best 12 points for Concordia in a losing effort. Birtell also grabbed a game-best 12 rebounds for a double-double. Beau Smith (McKinney, Texas) was the only other player to reach double figures for Concordia with 10 points.
Concordia returns home to host Nebraska Wesleyan on November 22.