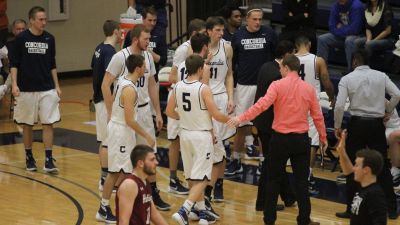 SIOUX CITY, Iowa – The Concordia University men's basketball team simply made too many mistakes to have a realistic chance of pulling an upset at sixth-ranked Briar Cliff, the GPAC regular-season champion. The host Chargers capitalized and poured in 13 treys on the way to a 98-84 win that capped the regular season for both teams.
Third-year head coach Ben Limback's squad turned it over 27 times and had no answer for sharpshooter Clay Harreld, who knocked down nine triples for Briar Cliff. The Bulldogs will enter the postseason with an overall record of 18-11 and conference mark of 10-10.
"We knew coming in that we would have to take care of the basketball and play defense," Limback said. "We got off to a bad start, but I liked the way we fought back. We did some good things midway through the first half. You just can't have 27 turnovers against the best team in our league and think you're going to have success."
Harreld got impossibly hot right out of the gates, making his first four attempts from long range in helping Briar Cliff build a 17-1 lead. Concordia got all the way back within two on two separate occasions in the first half. Briar Cliff went on a 10-0 run going into the break and then bullied the Bulldogs at the outset of the second half. The splurge became a 30-4 run that put Briar Cliff out in front, 72-40, less than six minutes into the second half.
Concordia actually held the nation's highest scoring team to 43.9 percent (29-for-66). However, the Chargers (27-3, 18-2 GPAC) went 27-for-33 (.818) from the free throw line and lived off a three-man wrecking crew of Harreld (31 points), Austin Homan (18 points) and Bryan Forbes (17 points) that combined for 66 points.
Five different Bulldogs reached double figures led by the 18 points from point guard Jamie Pearson. Chandler Folkerts booked his 13th double-double of the campaign, producing 14 points and 10 rebounds. Others with 10-plus points were Justin Damme (13), Eli Ziegler (11) and Robby Thomas (10). Folkerts and company enjoyed a 46-27 advantage on the boards.
Concordia had won seven of its previous eight games entering the weekend. Its 18 wins are the most in a single season for the program since 2009-10.
The Bulldogs have drawn another tough road assignment for the quarterfinals of the GPAC tournament. As the tourney's No. 6 seed, Concordia will travel to play at 15th-ranked Dakota Wesleyan (21-9, 13-7 GPAC). The two teams also met in the quarterfinals last season with the Tigers coming out on top, 78-64.