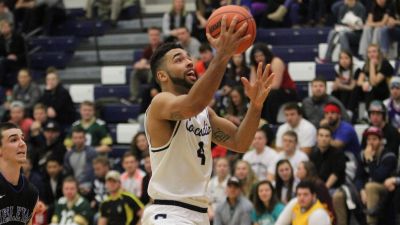 YANKTON, S.D. – After a slow offensive start, senior guard Jamie Pearson ignited a 27-2 first-half run that helped carry the Concordia University men's basketball team to an 87-48 victory over host Mount Marty inside Cimpl Arena on Saturday afternoon. The Bulldogs shot a blistering 55 percent from the field while holding the Lancers to 32 percent shooting in the lopsided affair.
The road win snapped a three-game skid for third-year head coach Ben Limback's squad, which improved to 12-9 overall and 6-8 in league play.
"Mount Marty's a team that has been struggling this year but I thought our guys came ready to play," Limback said. "We defended well and opened things up in transition. When we got some steals that's when we started to pull away. I thought Micah (Kohlwey) gave us a good spark in that first half and Jamie as well."
Concordia actually trailed 13-10 more than eight minutes into play. Pearson then dropped in 3-pointers on consecutive possessions to initiate the spurt that gave the Bulldogs complete control. The Lancers (1-20, 0-12 GPAC) went greater than 10 minutes without notching a field goal as their deficit ballooned quickly. The Bulldogs got even hotter in the second half (58.1 percent shooting) and led by as many as 41 points.
Pearson and Chandler Folkerts put up 15 points apiece to top Concordia. Pearson made all four of his shot attempts from the field while Folkerts went 7-of-10 from the floor. The Chanimal had his streak of six-straight double-double snapped. He was needed for just 20 minutes of action as the Bulldogs managed an insurmountable lead. Eli Ziegler (10 points) and Kohlwey (nine points) were also key offensive contributors.
Limback used eight players off the bench. Kyle Pierce led the reserves with eight points and four rebounds. Nathan Toenjes also had eight points. Josh Kirkwold and Ryan Olson both nailed a trey to record their first career collegiate points. In sum, the bench contributed 33 points.
"We had guys off the bench that we wanted to try to get their groove back and we were able to rest Max Wegener and Kevin White," Limback said. "Our guys came off the bench and did some good things. It's nice to see that depth develop."
Concordia owned a massive advantage in the turnover department, giving it away only six times compared to 20 takeaways. The Bulldogs outscored the Lancers 26-9 in points off turnovers. There were few bright spots for Mount Marty, though Alex Irvine (15 points, 5-for-7 from the field) and Deric Denning (11 points, seven rebounds) lent solid production.
Senior Robby Thomas hoisted only four shots, but he rejected four on the other end. The native of Shawnee, Kan., has 187 career blocks, putting one off the program's all-time record held by Glen Snodgrass (188 career blocks). Thomas, who has more than 50 blocks in each of the last three seasons, also swiped one of Concordia's 14 steals.
The Bulldogs will attempt to complete a regular-season sweep of rival Doane (8-14, 4-9 GPAC) when the Tigers visit Walz Arena on Wednesday for an 8 p.m. tipoff. Back on Nov. 24, Concordia escaped Crete with an 84-81 victory. The road team has won each of the last five meetings in the series.