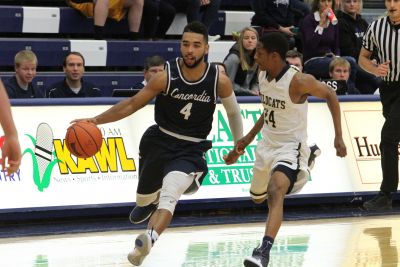 Concordia cruises to 76-56 win over Hastings College
The Concordia University men's basketball team improved to 8-2 overall and 4-1 in GPAC play with a decisive 76-56 win over Hastings College on Wednesday evening in Seward. The win kept Concordia in a tie for second place in the GPAC standings. Hastings College dropped to 4-9 overall and 1-4 in the GPAC with the loss.
The visiting Broncos grabbed an early lead and held onto that lead for the first nine minutes of the game. The Bulldogs used an 11-1 run to take a 23-17 lead with just under seven minutes left in the first half. Concordia then finished the first half on a 14-3 run to take a 39-25 lead into halftime.
The Bulldogs jumped all over Hastings early in the second half. Concordia led by as many as 32 (69-37) with just over 10 minutes left to play in the contest, and the Bulldogs cruised to the 20-point win.
"Our physical play really bothered them tonight," said Grant Schmidt, head coach of the Bulldogs. "We learned a lot after last week (loss to Doane), and our defense and rebounding were incredible tonight. We held some of their players well under their average and overall, we made it look pretty easy in the second half especially tonight."
The Bulldogs totally dominated the rebounding battle. Concordia finished with 49 rebounds in the contest compared to just 28 for the Broncos. Concordia totaled 21 assists on their 24 made field goals. The Bulldogs also blocked 10 shots and came up with seven steals on the night. Offensively, Concordia was 24-of-54 (44.4 percent) from the field. The Bulldogs were 11-of-24 (45.8 percent) from deep and 17-of-25 (68 percent) from the free throw line.
Ryan Shrum (Allen, Texas) scored a game-high 19 points to lead a balanced Concordia offensive attack. Tyler Byrd (Bennington, Neb.) added 16 points, eight rebounds and six assists. Barrett Braun (Lakeside, Calif.) and Porter Birtell (Madison, Neb.) chipped in with 13 and 11 points, respectively, for the Bulldogs. Sam Huebner (Aurora, Colo.) had another solid performance for Concordia with eight points, 15 rebounds, seven assists and five blocks in the Bulldog win.
"We were fine once we got settled into the game tonight," noted Bulldog senior Ryan Shrum. "We did a nice job of playing inside-out, and that's when our shooters are at their best. We hit some outside shots to really stretch the defense, and then we were able to work our inside game much more in the second half. Everyone contributed tonight."
Hastings College was just 17-of-56 (30.4 percent) from the field in the loss. The Broncos were 5-of-15 (33.3 percent) from deep and 17-of-26 (65.4 percent) at the charity stripe. Donovan Shultz scored 16 points and grabbed eight rebounds for the Broncos. Tobin Reinwald added 11 for Hastings College.
Concordia travels to Northwestern College on Saturday for a key GPAC matchup against the Red Raiders. Concordia and Northwestern are currently tied for second in the GPAC standings, and Coach Schmidt talked about the upcoming road test.
"We're going to play in an extremely tough environment on Saturday," remarked Schmidt. "We had a real battle with them at home last year (four OT win for Concordia). They bring back pretty much the same team they had last year, and I think we're playing better at this point than we were last year. It's going to be a big game for our team."