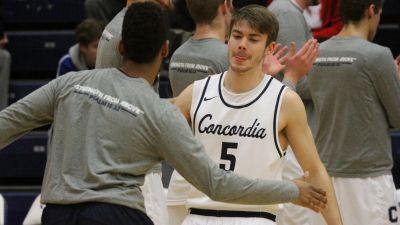 SEWARD, Neb. – The Concordia University men's basketball team avenged its early-season loss at Doane – and then some on Wednesday evening. The red hot Bulldogs operated masterfully offensively, shot 52.9 percent from the floor and sent the visiting Tigers home with a lopsided defeat by a final of 98-71.
Fourth-year head coach Ben Limback's squad has won a season high six games in a row and has improved to 18-8 overall and to 7-7 in conference play.
"Once again, I love our seniors," Limback said. "I feel like they got everybody ready and set the tone. Chandler (Folkerts) was just a dominant force in the first half. Both him and Justin (Damme) were great inside. I thought our defense really did some nice things. They run a lot of ball screens and I thought we executed well for the most part. I'm just proud of the guys again."
Concordia did not really need the services of Folkerts in the second half. The Chanimal put up a game's worth of offensive production in the first half alone, during which he made all nine shots from the field and all three free throws while piling up 21 points. Sharpshooting guard Eli Ziegler (17 points) took it from there, coming out of the break with a flurry that allowed the starters to have an early exit. The Bulldogs already owned a 30-point advantage with more than 12 minutes remaining in the game.
Ziegler dropped in 5-of-7 attempts from beyond the arc while continuing his climb up the program's single-season list for most 3-point field goals. His 82 treys rank in a tie with Limback for No. 7 in school history. With less than a handful of regular-season games left in his career, Ziegler is feeling the urgency.
"There's a lot of urgency," Ziegler said. "We want to do the best we can and we want to set a good foundation for these younger guys, too."
The reserves spelled the starters for much of the second half and hardly missed a beat offensively. Damme (11) and freshman Clay Reimers (10) both reached double figures. Zach Friel also tallied nine points and four rebounds in his 10 minutes of action. Among starters, freshman Tanner Shuck (11) joined Folkerts and Ziegler in double digits in scoring.
Concordia entered the night wanting to avenge its 80-77 loss at Doane (12-15, 3-12 GPAC) on Nov. 22. The latest meeting between the two rivals was no contest.
"That was definitely a big motivator for us," Ziegler said. "We talked about before the game how crucial this win was for the GPAC standings and for everything, really. We had to come back from last time we lost to them. All 15 guys were ready to go."
Not only did the Bulldogs outshoot the Tigers (52.9 percent to 41.4) considerably, they also manhandled them on the boards, 48-28. Both teams committed just nine turnovers.
The Bulldogs have moved up to sixth place in the conference and have clinched a spot in the eight-team GPAC tournament that will begin on Feb. 22. Concordia is now 11-2 over its last 13 games.
The Bulldogs will put their win streak to the test this weekend with a pair of road games against nationally-ranked foes. Up first is Saturday's journey to Sioux City, Iowa, where they will challenge No. 18 Briar Cliff (21-6, 11-4 GPAC) at 4 p.m. CT. The following day, Concordia will venture to the Corn Palace for a 4 p.m. tipoff at No. 7 Dakota Wesleyan (21-7, 12-4 GPAC). The Bulldogs defeated both teams at home earlier this season.