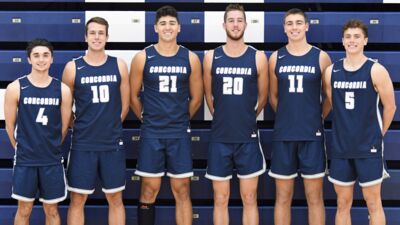 Enjoy it before it's too late. The number of games left is dwindling for a senior class that has earned the right to be celebrated, lauded and thanked. Not only has this group of four-year student-athletes paved the way for the most successful four-year on-court run during Head Coach Ben Limback's tenure, it has also represented exactly what Bulldog Basketball aspires to be.
Christian character. Toughness. Resilience. Class acts. Servant leaders. High academic achievers. Winners. That's the legacy the seniors will leave behind, no matter the results the remainder of the 2021-22 season.
Limback and his staff hit home runs, even if they didn't know it at the time, when in the fall of 2018 they welcomed in future standouts Carter Kent, Gage Smith, Klay Uher and Justin Wiersema along with the likes of key contributors Nick Cito and Tanner Wubbels. Each of them has had a role in elevating the program to heights it hadn't reached in many years.
Said Limback prior to the season, "It's a true blessing to have your most talented players also be your guys that are the hardest working. They have a hunger each day to get better and that sets the tone. They come in and they know we didn't do what we wanted to do last year. There's something to prove. Each one has individual goals, but they know ultimately, they want to help our team achieve success that maybe we've never had before. The entire class is special."
The memories made over four years will be too thick for any one of them to ever brush away. Consider that this group has navigated through the most trying days of the COVID-19 era in collegiate athletics, celebrated a wild GPAC tournament title run in March of 2020, have competed intensely in road trip card games of "Pitch," brought dominance back to CIT and made it an incredible chore for visitors to win in Friedrich Arena, all while playing with consistency and class. It's a group that has never wavered in its commitment and resolve, no matter the circumstances.
There were certainly early signs that this collection of young men could take a hit and keep on coming. Kent and company were essential parts of a roster makeover heading into 2018-19. There were growing pains to be sure, but a 102-92 upset of seventh-ranked Briar Cliff in January of that season showed promise. Kent and Wiersema had already been inserted into the starting lineup and they responded with 26 and 15 points, respectively, in the victory. At one point in 2018-19, Concordia stood at 1-9 in conference play, but it wasn't enough to deter a tough-minded bunch.
Says Kent, "I think that our senior class has brought a mentality of competing and working hard every day, which has been amazing to see throughout our time together here at Concordia. Ever since our freshman year, we have focused on bringing energy and effort each day, no matter where we were in the rankings or what happened the previous game. I think that we bring that effort each day, not for ourselves, but because of how much we care for each other and want the group as a whole to succeed."
The key pieces of the class were assembled by Limback and former lead assistant coach Lance Korrell. They didn't have to go far to find Kent and Uher, Crete High School teammates who have been friends since childhood. Meanwhile, Smith and Wiersema ventured to Seward via Colorado after watching older teammates and friends choose Concordia. The studious Kent cited the campus atmosphere and academics as major resasons for his decision. A First Team All-GPAC performer last season, Wiersema did not even visit another college before settling on the Bulldogs.
This was 'their' college, and once they made that decision, they were all in. Some of the challenges that were presented to them as freshmen and the obstacles brought about by COVID-19 only served to strengthen the group.
Said Uher, "I'm most proud of our persistence and ability to get through things together. We came in our freshman year and didn't have the season any of us wanted to have. We talked about being first in the conference and the national tournament a lot, but at that time it wasn't feasible. Through countless workouts, shooting sessions and practices over the years, we have worked hard enough to put ourselves in a position to make those things come to fruition."
Things came together quite nicely in year two. As Smith says, he and his teammates "constantly talk about winning the GPAC tournament" as they did in March of 2020. In those simpler, pre-pandemic days, the Bulldogs enjoyed a breakthrough while edging 11th-ranked Dakota Wesleyan, 68-66, in the GPAC tournament final. Concordia found a way to get it done inside a raucous and hostile environment at the Corn Palace in Mitchell, S.D. Such a major turnaround from the previous season would not have been possible if not for the right mix of resilient players, which included star upperclassmen in Tanner Shuck and Brevin Sloup.
The momentous win put the program in the national tournament for the first time since 2005 and allowed members of the 2019-20 squad to realize a dream. Hopes are high for more thrills this 2021-22 season, but it will be hard for any singular game to top what occurred two years ago.
Recalls Kent, "It was such a fun environment to play in and we had gone through a lot of hard work during that season to get to that point. Seeing all the work pay off and being able to experience that together as a team was definitely something that I won't forget. That is what college basketball is all about."
As of mid-January, the picture is still coming into focus in terms of the GPAC regular season title race, but the Bulldogs have emerged as one of the prime contenders. The list of accomplishments for this class includes a 73-39 four-year record, in addition to a GPAC tournament title and national tournament appearance, and recognition as an NAIA top 25 team in back-to-back polls. When Concordia landed at No. 23 on Dec. 15, the program achieved its first national ranking since the 2010-11 season.
Because of where things stood just a few winters ago, the Bulldogs have had to earn every ounce of respect they have gotten. Still, the underdog role fits them. Said Wiersema, "To be a part of this team has meant the world to me these last four years. We started out at the bottom of the GPAC and just believed in each other and eventually started to see results that gave us confidence to do the things we did and eventually get here. Ultimately, it feels pretty satisfying to develop like we have and come out our senior year and really try to prove something."
Undoubtedly, Concordia has played with an edge to it over the past four seasons. Never are the Bulldogs expected to reign atop the conference, but that's why they wanted it so bad in 2020 and why they want it even more now. The official team themes of the past few seasons personify who they are – "Stay Hungry," "Win The Day" and "All In." They haven't just talked about such things, they've lived them.
"I'm proud to be part of a group of guys that have had to fight through a lot of adversity over the years to become the successful team we are today," Smith said. "Our group of guys have that 'no quit' mentality and I'm proud of our senior class always showing up for each other."
Broken down individually, each piece of the senior class brings unique talents and skillsets to the table. Kent has flourished in a big way this season, averaging 17.6 points per game while cracking the top 10 on the program's all-time scoring list. Smith and Wiersema have both become known for their nonstop motors. Wiersema's game has taken off as he rose to First Team All-GPAC status last season. As for Smith, he broke through in 2020-21 as one of the GPAC's most improved players. At a moment's notice, Uher can step in and start as he did in this season's first two games (17 points in the win over Presentation). In addition, Cito and Wubbels have been supportive leaders and positive contributors.
Understandably, Limback will have a difficult time saying goodbye. Senior day may just be a bit more emotional in 2022. There will also be the goodbyes said to 'super seniors' Ryan Holt and Sam Scarpelli, who have also had a hand in the program's success. Just a few short years ago, the group was trying to find its way as freshmen.
"This group really took everything in stride," Limback said. "Carter was the GPAC freshman of the year, but all those guys were instrumental in raising the level of the program. This year they wanted to do really, really big things. That first year we were just trying to get in the conference tournament. This year we want to have a chance to win the league. There's a reason why they're in this position. They bought in for four years. The culture has been established because of their level of commitment. I already know the banquet and the last game is going to be a tough deal for me as a head coach."
Years from now, Limback will be able to continue to look upon the group like a proud father. Upon graduation this May, Carter will head to vet school at the University of Nebraska, Gage will continue into the business world (or perhaps return for a fifth season), Klay will take on a full-time role with Northwestern Mutual and Justin plans to attend nursing school back in Colorado.
They will head into the world and make a difference, just like they did here at Concordia. But no matter where they go, they won't forget these last four years spent with some of the best friends they'll ever have, making some of the best memories they'll ever forge. They can be proud, knowing they did it by winning in all aspects.
Explained Kent, "I am most proud of this team because every guy in the room is a great person. They are great basketball players and very talented, but I am most proud of how we get along as a team and how we always enjoy being around each other. Anywhere that we are at is a great time just because the guys are so much fun to be around."
Added Limback, "They're all ready to launch and make that next step, whether it's starting a real estate business or going to med school. They're all ready to make an impact. It's going to be bittersweet. They have more to their lives than just basketball. I'm proud to be able to coach them."