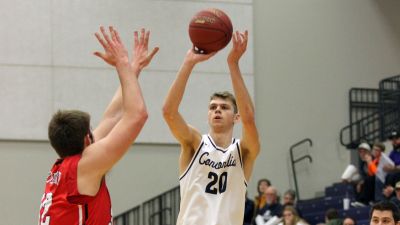 SIOUX CITY, Iowa – In a hostile road environment, the Concordia University men's basketball team never fully recovered from a 13-2 hole right out of the gate on Wednesday night (Feb. 7). Still hopeful of defending its GPAC title, Briar Cliff rolled to an 84-58 win over the Bulldogs, who will want to quickly flush this night from their memories.
Fifth-year head coach Ben Limback's squad has now dropped three in a row, including two against nationally-ranked opponents. Concordia slipped to 16-10 overall and to 7-8 in conference play with three games remaining in the regular season.
"We've shown the ability to defend the three this season and Briar Cliff has shown the ability to shoot the three," Limback said. "We certainly didn't defend it tonight. We just didn't compete. I was disappointed with that. Clearly I didn't get these guys ready to play. Our execution has to be better at both ends."
This one really got out of hand early in the second half. The Bulldogs actually entered the night ranked third nationally in 3-point field goal percentage defense (.310), but they did little to slow down NAIA Division II's most prolific outside shooting team. The Chargers went 18-for-37 (.486) from long range while putting Concordia in their rearview mirrors. Hot 3-point shooting seemed contagious throughout the entire roster. Jackson Lamb served as one of the arch villains. He went 5-for-7 from beyond the arc.
Sophomore Clay Reimers emerged as the lone consistent source of offense for Concordia. He tallied 20 points and eight rebounds while continuing to pace the GPAC in rebounding. With 11 points, sophomore Cordell Gillingham was the only other Bulldog to reach double figures. Concordia shot 43.1 percent (22-for-51) from the field and a miserable 3-for-16 (.188) from 3-point range. Reimers made all three of the Bulldog treys. The team's 19 turnovers didn't help.
Briar Cliff (23-5, 12-4 GPAC) remained in a first-place tie with Morningside in the GPAC standings. Lamb (16 points) led a group of four Charger double-figure scorers. Jay Wolfe turned in a double-double (10 points, 11 rebounds). Briar Cliff led by as many as 33 points (66-33) before coasting to the finish line.
The Bulldogs will have the pleasure of returning to Sioux City on Saturday for another battle with a top-10 ranked foe. Concordia and No. 10 Morningside (20-6, 12-4 GPAC) will tipoff from the Rosen Verdoorn Sports Center at 4 p.m. CT. The Bulldogs will aim to avenge an 80-57 home loss at the hands of the Mustangs that occurred on Jan. 6.
Said Limback, "We have to get our edge back. We have to be able to withstand some adversity better. There's no time to hang our heads."