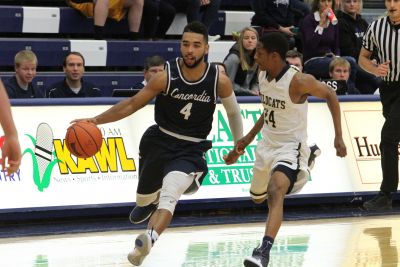 Byrd's big night leads Concordia to fifth straight win, 76-67 over Morningside
Concordia jumped out to an early lead and then held on for a 76-67 men's basketball win over Morningside College on Saturday afternoon in Seward. The Bulldogs won their fifth straight game to improve to 5-1 overall and 1-0 in conference play. Morningside dropped to 2-5 overall and 0-1 in GPAC play with the loss.
Concordia took an early 9-2 lead in the opening minutes. Junior guard Tyler Byrd (Bennington, Neb.) scored seven of the first nine for the Bulldogs. A 13-2 run by Concordia to end the first half gave the Bulldogs a comfortable 39-24 lead heading into the break. Byrd totaled 22 points in the opening half to lead the way. Concordia was 10-of-11 at the foul line, and the Bulldogs held Morningside to just 6-of-24 (25 percent) from the field in the opening 20 minutes.
Morningside used pressure defense to cut into the lead early in the second half, but Concordia held on to its advantage. With just under 11 minutes to play in the contest, Morningside used a key 9-0 run to pull within two at 55-53. The Mustangs then tied the game at 58-58 with seven minutes remaining.
The Bulldogs reclaimed the lead with just under seven minutes to play. Barrett Braun (Lakeside, Calif.) made a pair of free throws to give Concordia a 60-58 lead, and the Bulldogs would hold the lead the rest of the way. Back-to-back 3-pointers by Ryan Shrum (Allen, Texas) and Braun pushed the Bulldog lead to 10 at 70-60 with just over three minutes left in regulation, and Concordia held on for the win.
The Bulldogs were 22-of-44 (50 percent) from the floor, 9-of-17 (52.9 percent) from deep and 25-of-30 (83.3 percent) from the foul line in the win. Concordia held a 37-29 rebounding advantage. Byrd scored 30 points and added four steals to pace the Bulldogs. Byrd was 9-of-17 from the floor, 4-of-6 from long range and 8-of-10 at the foul line. Braun scored 13 points (all in the second half), and Sam Huebner (Aurora, Colo.) added 12 points, six rebounds and five assists. Porter Birtell (Madison, Neb.) added a double-double of 11 points and 14 rebounds for Concordia.
Kevin Zoz scored 18 points to lead Morningside. Jake Hamburger added 10 off the bench for the visiting Mustangs.
The Bulldogs travel to Midland University on November 23 for an 8 pm matchup against the Warriors.