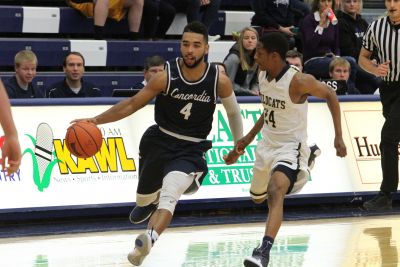 Byrd receives GPAC Player-of-the-Week recognition
Concordia's Tyler Byrd is this week's GPAC/Hauff Mid-America Sports men's basketball Player-of-the-Week. He averaged 22 points and six rebounds a game as the Bulldogs went 2-0 this past week.
Byrd, a junior from Bennington, Nebraska, flirted with a triple-double in Concordia's 74-43 win over Grace University. He totaled 14 points, 10 rebounds and eight assists in the contest.
On Saturday, Byrd led the way as Concordia won their league opener over Morningside, 76-67. He had 22 points in the first half and finished with 30 for the game. Byrd also added four steals, two rebounds and two assists in the Bulldog win.
For the week, Byrd was 15-of-30 from the field, 6-of-12 from long range and 8-of-10 at the foul line. So far this season, he leads the team in scoring (14.5 ppg) and is third in rebounding (6.0 rpg). He also leads the team in assists (28) and steals (9).
The Bulldogs have won five in a row to sit at 5-1 overall and 1-0 in the GPAC. Concordia travels to Midland University on Tuesday evening to continue conference play.