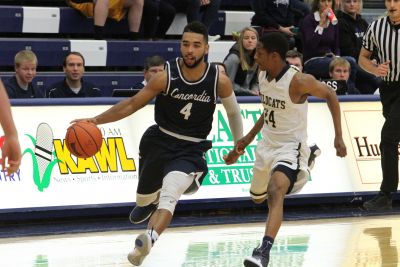 Byrd and Huebner highlight GPAC All-Conference Team
A total of four Concordia University men's basketball players received conference honors, as the 2010-11 All-Conference Team was announced on Wednesday. Tyler Byrd was a first team selection, while Sam Huebner was named to the second team. Porter Birtell and Ryan Shrum were honorable mention selections for the Bulldogs.
Byrd (Bennington, Neb.) had an impressive junior season for the Bulldogs. He was second on the team with 13 points per game and easily led the team with 107 assists and 36 steals. He averaged 36.1 minutes per game which was also a team-high. Byrd had a game-winning shot to lead Concordia past Hastings College on the road. He was also named GPAC Player-of-the-Week following solid performances against Grace University and Morningside College early in the season.
Huebner (Aurora, Colo.) finished his Concordia career in style, as he led the team with 14 points and 8.4 rebounds per game. He shot over 50 percent from the field and was second on the team with 63 assists. Defensively, he was second on the team with 21 steals and easily led the team with 38 blocks. He had a career night with 29 points and 19 rebounds, as Concordia defeated Doane College in January. He was named to both the Cattle Classic and CIT All-Tournament Teams. Huebner fell just short of 1,000 points in his Bulldog career.
Birtell (Madison, Neb.) played in 22 games with 18 starts during his sophomore campaign. Despite injury problems during the middle of the season, Birtell finished fourth on the team in scoring (11.5 points per game) and second in rebounding (6.4 rebounds per game). He shot a team-best 58.9 percent from the field (103-of-175).
Shrum (Allen, Texas) appeared in all 29 games for Concordia in his senior season. He finished third on the team with 12.4 points per game. He also averaged 34.2 minutes per game to rank second on the team. He hit 74 3-pointers on the season to lead the team. Shrum hit eight 3-pointers and scored a career-high 31 points to lead the Bulldogs past Nebraska Wesleyan in January. He was named to the Cattle Classic All-Tournament Team.
Concordia finished the season with a 16-13 overall record. The Bulldogs were 10-8 in conference play.