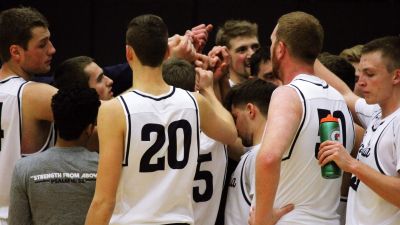 SEWARD, Neb. – The Concordia University men's basketball team exemplified what it means to shoot the lights out during Thursday night's fireworks display. The Bulldogs left visiting Haskell Indian Nations University (Kan.) in the dust by draining their first six attempts from 3-point range on the way to a 104-72 blowout victory inside Walz Arena.
Fourth-year head coach Ben Limback's squad has been unbeatable at home. A perfect 5-0 at Walz, Concordia is now 6-4 overall and has won each of its last eight home games.
"I thought we shared the ball really well. It's a team-oriented group of guys," Limback said. "I'm really pleased with our offensive movement and the way we shared the ball. Defensively, I thought we had a lot of breakdowns. There's some stuff we're going to have to clean up, but I'm proud of the guys."
Haskell (1-11) has experienced plenty of heartbreak this season. The Bulldogs spared the Indians the late game trauma this time around. Just 3:32 after tipoff, Concordia had built a 20-6 lead with its impossibly hot shooting. Four different Bulldogs nailed at least one triple during the splurge of six-straight makes. Included during that stretch were two bombs apiece from Seth Curran and Eli Ziegler.
Haskell failed to cut its deficit to fewer than nine points the rest of the way. It didn't have an answer for Concordia's offensive clinic. The Bulldogs went 16-for-35 (.457) from long range and shot 58.2 percent (39-for-67) overall. Ziegler found the bottom of the net on 5-of-8 shots from beyond the arc and paced Concordia with 15 points in only 22 minutes of action.
Limback used 13 different players and 12 of them registered in the scoring column. In 20 minutes of action, budding freshman Clay Reimers produced 13 points, eight rebounds and two blocks.
"I think it's my mentality coming off the bench," Reimers said. "We have players that share the ball really well. Everybody's getting open and we just keep passing it to the open players and knocking down shots."
Curran finished with 13 points. He went 3-for-5 from deep. Senior Justin Damme and freshman Brevin Sloup chipped in 10 each. Needed for only 16 minutes, star post Chandler Folkerts provided the night's most emphatic highlight when he flushed an alley-oop lob from Chris Johnstone. Folkerts put up eight points on 3-for-4 shooting.
Not only did the Bulldogs sizzle offensively, they also were the aggressors on the boards, earning a 43-29 rebound advantage. One of the few issues on this night was difficulty stopping Bryon Elledge from speeding into the lane. The jet quick guard led all scorers with 16 points for a Haskell team that shot 47.0 percent (31-for-66) from the field.
It was evident that Concordia had not overlooked the Indians, who have been victimized by a series of close losses, including two by a combined six points to teams ranked inside the top 20 at the NAIA Division I level. One benefit to the Bulldogs on Thursday was the absence of Haskell leading scorer Tsalidi Sequoyah.
"We knew that they could shoot. We just tried to bear down defensively and get stops when we needed them," Reimers said. "We knew the offense would come."
The Bulldogs will remain at home for Saturday's clash with No. 10 Dakota Wesleyan (8-2, 4-0 GPAC). The high-powered Tigers rank second nationally in scoring average (98.3) behind forward Jason Spicer (20.5 ppg). Saturday's tipoff from Walz Arena is set for 4 p.m. CT.