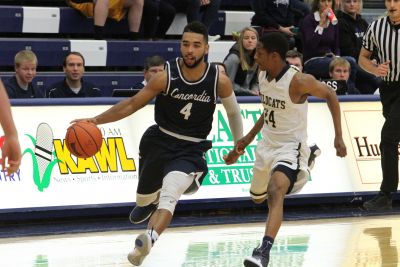 Bulldogs unable to slow unbeaten Morningside
SEWARD, Neb. – Twelfth-ranked Morningside continued its early-season roll by shooting 52.5 percent on the way to an 87-76 win over the Concordia University men's basketball team on Saturday afternoon. The Bulldogs were plagued by 22 turnovers – 15 in the first half – in falling for the first time in GPAC play.
Second-year head coach Ben Limback's squad dropped back to .500 at 3-3 overall and 1-1 in conference action.
"Against a great team like Morningside, we couldn't afford to make a lot of mistakes," Limback said. "We had 15 turnovers at the half. The second half was better, but we just weren't sharp. I didn't feel like we were finishing plays. We have to have a belief coming in. I don't think we expected to win this game.
"When we play aggressive and really attack and share it, it's a different story."
Concordia absorbed Morningside's initial charge. After digging a 15-4 deficit in the opening eight minutes, the Bulldogs stormed back on the strength of their outside shooting. They took their only lead of the game when Aaron Walker splashed home a trey to make it 25-23 at the 4:51 mark. The Mustangs responded to Concordia's 19-8 run by building up a 37-30 halftime advantage.
Topped by Ryan Tegtmeier's (11-for-11 foul shooting) 20 points, Morningside never allowed Concordia to get any closer after the intermission. The Mustangs were white hot over the final 20 minutes, shooting 60 percent (18-for-30) from the field and 84.6 percent (11-for-13) from the free throw line.
The Morningside lead expanded to as many as 17 points in the second half. The Bulldogs crept back into the game by jumping on senior Joel Haywood's back. The native of Lakewood, Colo., scored seven-straight Concordia points to cut the Morningside advantage to 75-67 with 3:04 remaining. Steve O'Neill followed with a dagger of a 3-pointer to push the Mustang lead back to double digits.
Sophomore post Chandler Folkerts turned in another solid effort in the post. He recorded his third double-double already this season by notching team highs of 17 points and 10 rebounds. Good things happened when the offense flowed through the Milford native.
"We got a lot of touches to him. I thought he looked a lot more comfortable in the second half," Limback said. "We're going to need him to be. He's got so much ability and great touch."
Limback again went deep into the bench, using a total of 12 different players. Walker had a productive 18 minutes, chipping in eight points (2-for-2 from both the 3-point and free throw lines), four rebounds and two assists. Freshman guard Kevin White put forth one of his better performances in his career, posting 10 points and two steals in 22 minutes. Haywood finished with 16 points.
The Mustangs, who own two wins over top-20 foes, placed five individuals in double figures in scoring. O'Neill back Tegtmeier with 19 points on 7-for-14 shooting.
Junior Robby Thomas played only 17 minutes for Concordia due to foul trouble. He still managed eight points, six rebounds and four assists.
The Bulldogs remain at home on Tuesday to host Briar Cliff (3-1, 0-0 GPAC) at 7 p.m. The Chargers opened up conference play at home versus Doane in a contest that tipped off at 8 p.m.