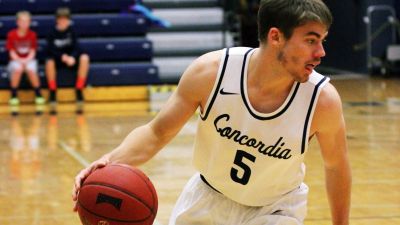 MIAMI GARDENS, Fla. – Known for its offensive prowess, the Concordia University men's basketball team got the stop it needed in the closing seconds while holding off 21st-ranked St. Thomas University (Fla.), 74-73, in Miami Gardens, Fla., on Friday night. The Bulldogs found a way to win a road game over a top-25 opponent for the second-straight evening despite going scoreless over the final three minutes.
Fourth-year head coach Ben Limback's squad has now made victims of four nationally-ranked foes this season. In its first of two games in Miami, Concordia knocked off No. 22 Florida Memorial University, 95-85, on Thursday. The Bulldogs have improved to 9-6 overall.
"This certainly gives us some confidence," Limback said. "Those are two great teams we beat on the road. We're not going to see that kind of size again until the national tournament if we're fortunate enough to get there. You play teams like this and it should get you ready for the grind of your league. I thought tonight we made some strides defensively and learned a lot here in Florida."
Trailing by one point, St. Thomas called a timeout with :2.7 left on the clock. After receiving a baseline-out-of-bounds pass out top, Mikon Hewitt dribbled inside the left wing and misfired on a high-arching step back jumper. Eli Ziegler aided in forcing the miss by helping off and closing out on Hewitt. Suddenly, the Bobcats (10-4) were dealt a home loss for just the second time in seven outings.
Though Concordia allowed St. Thomas to shoot 60.8 percent (31-for-51) from the floor, it made up for it by again pouring in shots from long range. Ziegler and freshman Tanner Shuck both dropped in five treys apiece for a Bulldog team that went 12-for-27 (.444) from beyond the arc.
Ziegler equaled a game high with 17 points. He's been particularly hot of late, draining at least five 3-point field goals in four-consecutive games. Ziegler canned two of his long balls barely over a minute apart midway through the second half as St. Thomas attempted to whittle away what had been a 15-point first-half Concordia lead.
Ziegler didn't have to do it alone. Shuck tallied 15 points, Chandler Folkerts put up 12 points (5-for-6 shooting from the floor) and seven boards and freshman Clay Reimers tossed out a line of 10 points, five rebounds, four assists and four steals. Additionally, Seth Curran dished out seven assists.
Now sitting at 952 career points, Ziegler is as confident as ever.
"The kid's in a zone. He's in a rhythm right now," Limback said. "He's making plays when we need them. That was a good lengthy team. Sometimes shooters struggle against teams that have great length. He's moving really well and taking great shots."
But the offense ran dry after Jake Hornick's fast-break layup provided a 74-67 lead with 3:05 left. The Bobcats turned up the heat defensively and forced a pair of last-minute turnovers while getting within one. They would have tied it up with 48 seconds left, but Kristers Zeidaks missed an and-one free throw opportunity.
Zeidaks paced St. Thomas with 17 points. Hewitt (16 points, 11 assists) piled up a double-double while quarterbacking the offense. Two other Bobcats reached double figures for The Sun Conference member.
Concordia shot 50.0 percent (28-for-56) from the field. The Bulldogs owned a slight 28-26 rebound advantage. Turnovers were even at 21 apiece.
The Bulldogs will return to friendly Walz Arena on Wednesday when defending GPAC champion Briar Cliff (13-4, 4-2 GPAC) comes to town for an 8 p.m. CT tipoff. As part of Fan Appreciation Day, no admission will be charged. Concordia is 6-1 at home this season.
The Bulldogs will be flying out of Florida early on Sunday morning. While at a Ruby Tuesday after Friday's win, Limback joked, "Tomorrow we'll hit up South Beach. I don't know if we'll stay up late enough to hang out with Pitbull."