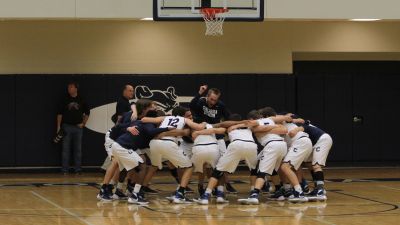 SEWARD, Neb. – A combined 30 treys blistered the nets as part of a shootout inside Walz Arena on Saturday evening. After giving up a five-point lead in the final 20 seconds of regulation, the Concordia University men's basketball team dominated the overtime session on the way to a 110-99 victory over visiting Morningside.
Senior point guard Jamie Pearson exploded for 31 points in leading third-year head coach Ben Limback's squad to its first GPAC victory of the 2015-16 season. Concordia moved to 5-1 overall and 1-1 in conference play.
"I just love how we came out and fought in overtime," Limback said. "Robby (Thomas) hit a big three and Jamie hit some big shots at the end there. I felt like we beat them twice tonight. We had some turnovers and some things that allowed them to come back in, but I'm proud of our guys for that overtime performance."
The overtime was forced when Brody Van Ginkel drilled a pull-up triple in the final 10 seconds of regulation, knotting the score at 90-90. Van Ginkel's trey came on the heels of two missed free throws by Micah Kohlwey. Pearson got one final look in regulation, firing up a long three that missed the mark.
The Bulldogs ensured there would be no additional drama in the overtime period. They began overtime with a 13-3 run. Thomas dashed the Mustang hopes of a stealing a road win by burying back-to-back bombs as part of the splurge. Thomas put up half of his 16 points during the extra session to in helping to finally put the contest to bed.
The 6-foot-7 native of Shawnee, Kan., went 3-for-4 from downtown. As a team, Concordia nailed 14-of-30 (.467) long-range attempts. Junior Eli Ziegler (21 points) sniped five of his six 3-point field goals in the first half. Pearson added a trio of triples in putting up his second game this season of 30-plus points.
The Mustangs (3-4, 1-1 GPAC) matched Concordia's production from beyond the arc. Jake Nannen and Ryan Tegtmeier both went 3-for-4 from distance for a Morningside squad that ended up 16-for-35 (.457) from 3-point range.
Limback's crew was able to overcome the Mustangs' sweet shooting touch by outmuscling Morningside, 50-30, on the boards and with some key efforts off the bench. Due to foul trouble, Chandler Folkerts saw only 15 minutes of action. Max Wegener helped pick up the slack by totaling 12 points and nine rebounds in 14 minutes of floor time. Backup point guard Rudy Knight added six points while making all three of his attempts from the field.
"Max Wegener played well tonight," Limback said. "I thought our bench had a good day of practice yesterday and it showed tonight. I thought we outplayed them off the bench so it's good to see that."
Kohlwey (11 points) joined Pearson, Thomas and Wegener and Ziegler in double figures in scoring. Four different Bulldogs had at least seven rebounds: Nathan Toenes (9), Wegener (9), Folkerts (7) and Thomas (7). Pearson dropped six dimes and reeled in five rebounds to go along with his 31 points in 38 minutes of play.
Brody Van Ginkel paced the Mustangs with 26 points. Bryce Koch added 18, and Blake Van Ginkel dropped in 17. Morningside had entered Saturday fresh off an 85-60 win over Mount Marty on Wednesday.
The Bulldogs will head to Crete on Tuesday to take on conference rival Doane (3-6, 1-1 GPAC) in a contest set to tip off at 8 p.m. The Tigers defeated Mount Marty, 86-71, in Crete on Saturday.