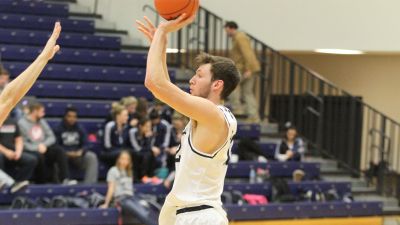 SEWARD, Neb. – The Concordia men's basketball team has bounced back after a three game losing streak and defeated its second GPAC opponent in a row. The Bulldogs claimed a victory over Doane College, 89-81 Wednesday night thanks to a lofty .588 shooting percentage from Concordia.
Concordia improves to 13-9 overall and 7-8 in the GPAC. Doane drops to 8-15 overall and 4-10 in the conference.
Head coach Ben Limback said, "I thought we did a good job. Defensively at times, we needed keep them (Doane) out of the paint. Offensively, we got in a good rhythm. There was pretty good balance. Kyle Pierce gave us some great minutes off the bench, I thought he was accurate at both ends and really gave us a spark…It's good to get a win here at home and in the conference."
The Bulldogs shot .588 from the field (30-51) and .294 from behind the arc (5-17). Concordia's defense held the Tigers to a 40.5 percent field goal mark. The 'Dogs outrebounded Doane 35-22.
Leading the Bulldogs in scoring was Robby Thomas, tallying 22 points. Thomas also tacked on five rebounds and three assists. Also scoring above 10 points were Jamie Pearson (16), Pierce (16) and Chandler Folkerts (15). Pearson was the front runner in rebounds with seven boards.
Despite being double-teamed most of the time, Folkerts found a way around the defenders and pushed in 15 points, including a dunk with an assist from Pearson. The 'Dogs favored the paint in the contest with 50 of their points coming from inside.
Pierce said, "It's nice to get back and get to playing again after I had a little break. It's also good to get two wins in a row and a big win over Doane. We really took it to them the whole game."
After the first half, Concordia had missed just nine shots from the field and shot a sweltering 65.4 percent. Thomas had already amassed 11 points, contributing to the Bulldogs' 47-35 lead.
"We wanted to push in transition and get defensive stops that lead to offense. Some guys really played hard and stepped up," Limback said.
The only time the Tigers narrowed the Bulldogs' lead to less than 10 in the second stanza was with the last shot of the game. Trevor Cyboron of Doane drained a 3-pointer to set the final score.
On the upcoming Concordia Invitational Tournament, Pierce said, "We don't know exactly what to expect. Their records don't exactly show how good they are, they're good teams. We'll face some pretty good opponents. We're excited for the opportunity."
The Concordia men's basketball team will face Concordia Ann Arbor at CIT on Friday. The Bulldogs and Cardinals have a 3:15 p.m. start time slated for their first game of the tournament taking place at Concordia University Chicago.
"This was a really strong effort and a good thing to have going into the Concordia Invitational Tournament," Limback said. "It's a great environment, great opportunity and a fun time for the guys and everyone involved."