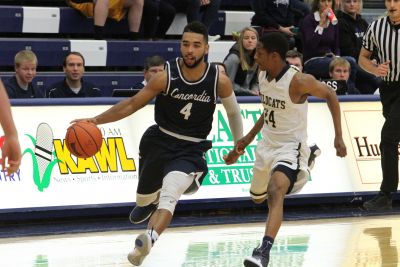 Bulldogs take on Division I Nebraska-Omaha on Monday evening
Concordia University travels to Omaha on Monday evening for an exhibition matchup against Division I Nebraska-Omaha. Tip is scheduled for 7 p.m. at Sapp Fieldhouse. It will mark just the second meeting between the two schools. UNO defeated Concordia by the score of 78-75 way back in 1985.
Concordia takes a 3-1 record into the matchup. The Bulldogs went 1-1 at the Northwestern Tournament over the weekend in Orange City. Concordia suffered a tough 76-61 loss to Dickinson State on Friday evening before rallying to post a 95-88 win over Grace University on Saturday.
Transfer Beau Smith (McKinney, Texas) leads the Bulldogs in scoring so far this year with 17.5 points per game. Porter Birtell (Madison, Neb.) has averages of 14.5 points and a team-best seven rebounds per game, while freshman Joel Haywood (Lakewood, Colo.) has scored 13.3 points per game while dishing out a team-best 17 assists so far this year.
UNO is 0-1 on the young season. The Mavericks dropped an 83-72 decision at IPFW over the weekend. CJ Carter led the Mavericks in scoring with 18 points, while Mitch Albers, Bill Freeman and Alex Welhouse also reached double figures in scoring for UNO in the loss.
Nebraska-Omaha moved from NCAA Division II to Division I, beginning with the 2011-12 school year. The Mavericks will join the Summit League starting in 2012-13.
Fans unable to make the trip to Omaha can purchase live video for the game. Live stats will also be available through the UNO athletics website.