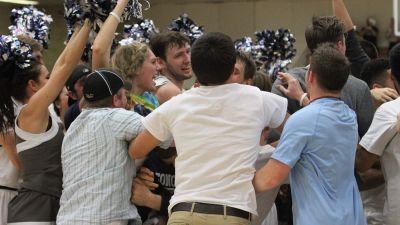 RIVER FOREST, Ill. – The Concordia University men's basketball team put on a clinic for much of Saturday's Concordia Invitational Tournament championship game in River Forest, Ill. But nothing has come easy for the Bulldogs. They could finally celebrate when DeShawn Robinson's three at the buzzer rattled in and out. The Bulldogs won, 86-85, on Saturday, giving them their 26th all-time CIT championship.
Third-year head coach Ben Limback won his second CIT title as Bulldog leader. He also won two as head coach at Concordia University Ann Arbor. CUNE has a four-game win streak and is 15-9 overall.
"I feel like that's a typical CIT championship," Limback said. "You hate to see anybody lose that game. I thought Concordia Wisconsin played unbelievable. Their kids played extremely hard. Made a lot of great shots that kept us on our heels in the second half.
"Kid takes that shot at the buzzer and you're watching it in slow motion. Last year it went in. This year it didn't."
The Bulldogs shot a sweltering 56.6 percent (30-for-53) from the field and led by as many as 12 points early in the second half. Concordia again rode Chandler Folkerts, CIT MVP, and his near unstoppable inside presence. There were stretches when the high-low game had CUW completely perplexed. Eli Ziegler sniped treys on three-straight possessions in the first half and Robby Thomas (19 points, five rebounds, three blocks), also all-tournament, put together another stellar game.
Somehow the Falcons (11-9) nearly overcame CUNE's sharpshooting. CUW rallied to take an 82-78 lead near the four-minute mark. Shortly after, Micah Kohlwey got loose with a steal and layup that brought things even at 82-82. Jamie Pearson drove for two and an 85-82 advantage to cap a crucial 7-0 run and the Bulldogs survived despite Folkerts fouling out with 2:02 showing on the game clock.
Folkerts piled up 24 points and eight rebounds a day after recording 21 points and 11 boards in the victory over Concordia Ann Arbor. The Chanimal has been on a rampage, but the wins matter most to the Milford native.
"Winning is way more fun," Folkerts said. "We're gelling better. We're playing together better. It's been really fun. It's turning into wins."
The Falcons hung tough amidst the frenzied atmosphere thanks to a plus-nine (19-10) turnover advantage. CUW also drilled 11 treys. It got 20 points from Keith Kahlfeldt and 17 from James Mitchell.
It was simply time for the ball to bounce CUNE's way. The Bulldogs have fallen victim to buzzer-beating, game-winning shots twice this season and last year were heartbroken after a CIT title game loss to Ann Arbor. For a brief moment, it appeared that Robinson's shot would go down. Said Folkerts, "I was just praying it wouldn't go in."
CUNE blocked another eight shots on Saturday. Folkerts rejected four attempts and Thomas, the program's career record holder, swatted three shots. The Bulldogs again excelled at the foul line, making 17-of-21 (.810) shots.
Folkerts was one of four players to reach double figures for CUNE. He was joined by Thomas (19), Ziegler (17) and Pearson (14). Pearson and Ziegler both dished out five assists.
The Bulldogs return to GPAC action on Wednesday when they head to Lincoln to take on rival Nebraska Wesleyan (14-6, 9-5 GPAC). Tipoff is slated for 8 p.m. inside Snyder Arena. CUNE will attempt to avenge its buzzer-beater loss to the Prairie Wolves back on Dec. 2.
Limback hopes his crew can build upon its CIT title.
"This environment certainly will make you tougher," Limback said. "The goal is to emotionally come down – enjoy tonight – and then tomorrow regroup and get rest. We have a big conference run ahead of us. We've got to keep it going."
CIT All-Tournament Team
MVP – Chandler Folkerts, CUNE
Robby Thomas, CUNE
DeAires Blackwell, CUC
Joe Remstad, CUAA
Keith Kahlfeldt, CUW