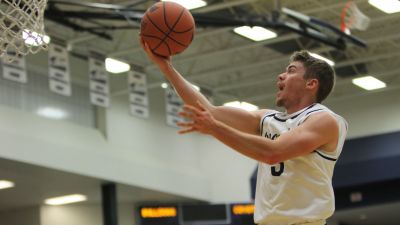 Bulldogs suffer first setback in GPAC opener
By Jake Knabel, Director of Athletic Communications
HASTINGS, Neb. – The Bulldogs and Broncos traded blows throughout an entertaining second half only to have David Plain deliver the knockout punch in the final minutes. After playing catch up most of the second half, the Concordia University men's basketball team fell, 87-80, in Wednesday night's GPAC opener at Hastings.
Third-year head coach Ben Limback's squad had entered the contest with the program's first 4-0 start since the 2004-05 season.
"We weren't able to play consistent team defense," Limback said. "We were too locked into our own man. We weren't active enough helping each other when we needed to. We did a poor job of keeping five (Plain) out of the lane. We've got to be stronger mentally and learn how to handle adversity. Hastings outplayed us. They played with a chip on their shoulder and we didn't match it."
Led by the playmaking talents of Jamie Pearson (game high 26 points), the Bulldogs cut their deficit to two on multiple occasions and finally tied the score (71-71) on Robby Thomas' mid-range jumper with 3:59 left in the game. Thomas also knocked in a couple of late triples, but it wasn't enough to overcome the lack of defensive stops as Hastings scored on nine of its final 11 possessions.
A crippling sequence occurred in the final 1:20. After Nathan Toenjes failed on a put-back attempt, Plain drove into the lane for a layup that pushed the Bronco lead to 80-74 with under a minute to play. Plain and Connor Musiel then combined to go 7-for-8 from the free throw line to salt the game away in the closing 45 seconds.
Musiel and Kendall Ferguson burned Concordia with 18 points apiece for the victors, who improved to 5-2 overall and 1-0 in conference play. Ferguson added nine rebounds and proved a tough inside-out matchup. He filled the stat sheet with three assists and three steals. Plain posted 14 points.
But Pearson and company ensured that the Broncos would not run away with it in the second half. Back-to-back buckets from Plain and Ferguson ballooned the Hastings' early second-half lead to 48-37. Concordia then went on a 14-5 run capped by Rudy Knight's trey that got Concordia within two.
Just under the eight-minute mark of the second half, Pearson showed promise of taking the game over the way he did in the overtime win over No. 8 Bellevue University. The Michigan native racked up 12 points in a six-minute span in helping his team keep pace with the Broncos. But Pearson misfired on consecutive possessions in the last two minutes and the scale tipped in Hastings' favor.
Thomas finished with a season high 21 points (5-for-11 3-point shooting). Chandler Folkerts posted a double-double (11 points, 10 rebounds) despite fouling out late in the contest. Micah Kohlwey chipped in nine points and five rebounds.
The Bulldogs will play at home for the fifth time already this season when Morningside (3-3, 1-0 GPAC) visits Seward for a 7 p.m. tipoff on Saturday. Concordia last defeated the Mustangs on Feb. 12, 2011. In its conference opener at Mount Marty on Wednesday, Morningside won 85-60.