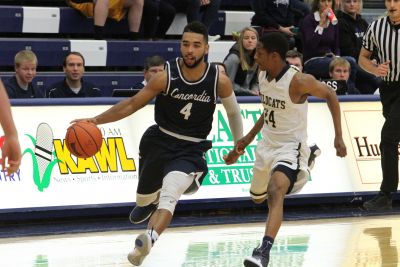 Bulldogs struggle from the field in 52-51 loss to Mount Marty
Offensive struggles continued to plague Concordia University in a 52-51 men's basketball loss at Mount Marty on Saturday. The Bulldogs dropped to 16-12 overall and 10-8 in the GPAC, while Mount Marty improved to 9-19 overall and 7-11 in conference play.
Mount Marty held a 28-24 lead at halftime. The Bulldogs were fortunate to be in the game after a rough first half of shooting. Concordia was just 7-of-27 (25.9 percent) overall and 4-of-13 (30.8 percent) from deep in the opening 20 minutes. Mount Marty, on the other hand, was 11-of-19 (57.9 percent) from the field in the first half of play.
Concordia rallied to take a 38-37 lead with just over 12 minutes remaining in the contest. The host Lancers responded with a quick 10-2 run to take a 47-40 lead with under eight minutes left. The Bulldogs kept within striking distance, and a basket by Porter Birtell (Madison, Neb.) tied the score at 51-51 with just over one minute remaining in the contest.
Mount Marty missed a 3-point attempt on the next possession, but Concordia was unable to capitalize. Tyler Byrd (Bennington, Neb.) missed a shot with around 20 seconds remaining, and Mount Marty got the rebound and a chance at the final shot. With just a few seconds remaining, Mount Marty's Stephen Klekas was fouled. He went 1-of-2 at the charity stripe to give the Lancers a slim 52-51 lead. Concordia turned the ball over in the closing seconds, and Mount Marty secured the victory.
Both teams struggled offensively in the final half. After a solid opening half, Mount Marty went just 10-of-27 (37 percent) from the field in the second half. Concordia was just 12-of-31 (38.7 percent) overall and 1-of-7 (14.3 percent) from deep in the final half. For the game, Concordia was 19-of-58 (32.8 percent) overall and 5-of-20 (25 percent) from long range. Mount Marty also held a 38-31 rebounding advantage in the contest.
Jared Wall had game-highs of 13 points and eight rebounds to lead the way for Mount Marty. Klekas was the only other player in double figures for the Lancers with 11 points.
Birtell scored a team-high 12 points for Concordia. However, Birtell was just 6-of-15 from the field on what was a cold shooting night for the Bulldogs. Ryan Shrum (Allen, Texas) also reached double figures with 10, but the senior was just 2-of-11 overall and 2-of-9 from behind the arc. Byrd added nine points on the night. The Bulldog bench contributed just six points in the contest.
The GPAC Tournament pairings will be released on Saturday evening.