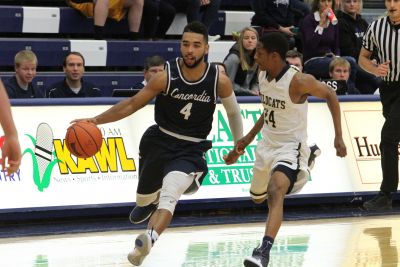 Bulldogs snap losing skid with 67-62 win over Dakota Wesleyan
For the second time this season, a Concordia and Dakota Wesleyan game came down to the wire. Saturday produced the same result as the earlier season matchup, as Concordia picked up a 67-62 men's basketball win over the Tigers on Saturday in Seward. Concordia, who entered Saturday's contest on a recent losing streak, improved to 9-11 overall and 5-8 in conference play. DWU dropped to 12-10 overall and 4-8 in the GPAC.
Neither team led by more than five in what was a very defensive oriented first half. DWU was just 10-of-26 from the field, while Concordia managed just 9-of-27 shooting in the opening 20 minutes. The Bulldogs were also just 1-of-11 from deep in the first half. Charles Dunbar (St. Louis, Mo.) provided a big spark off the Bulldog bench with 11 points in the half, and Concordia took a 26-23 lead into halftime.
There were multiple ties and lead changes in the opening minutes of the second half. The visiting Tigers rallied to lead by four on multiple occasions, but back-to-back layups by Brent Houchin (Bruning, Neb.) and Porter Birtell (Madison, Neb.) again tied the game at 48-48 with just over five minutes remaining.
The teams again traded leads, and another layup by Birtell tied the score once again (56-56) with less than two minutes remaining. Following a pair of missed free throws by DWU, Birtell scored on a 3-point play to put the Bulldogs up by three (59-56) with less than a minute to play. In need of a stop, the Bulldogs forced a turnover to get the ball back. Joel Haywood (Lakewood, Colo.) was fouled and knocked down both free throws to push the lead to five with 30 seconds to play.
DWU didn't go away, and a 3-pointer by Carder Pennington pulled the Tigers within two with 20 seconds remaining. From there, the Bulldogs closed the game at the foul line. Haywood knocked down two more, while Beau Smith (McKinney, Texas) and Dunbar also knocked down free throws in the closing seconds. The Bulldogs held on for the 67-62 win.
For the game, Concordia was 21-of-55 from the field for 38.2 percent. The Bulldogs were just 7-of-21 from deep, but free throw shooting was the story of the game. Concordia was a perfect 18-of-18 at the foul line in the win. Birtell scored a team-high 14 points. Dunbar added 13 points, six rebounds, and four assists. Dunbar was a perfect 6-of-6 at the foul line. Smith added a double-double of 11 points and 11 rebounds. Adam Vogt (Syracuse, Neb.) added nine points (3-of-5 shooting from deep) off the bench.
"Tonight's win started on the defensive end," remarked Charles Dunbar. "Our defense kept us in the game tonight when our offense struggled early. We did a great job rebounding tonight, and our team defense was pretty good. Offensively, we just need to continue to move the ball and then create turnovers on defense. We had some guys who sparked us tonight, and we really needed this win tonight."
Mike Lee scored a game-high 15 for DWU on 6-of-10 shooting from the field. Kris Wilson added 11 for the Tigers.
Concordia hosts Doane College this Wednesday evening.