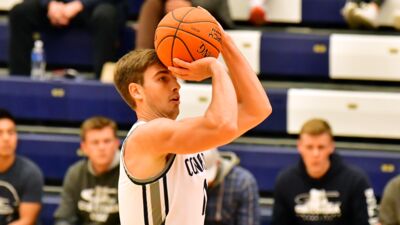 SEWARD, Neb. – This week will provide a strong indicator of where the 23rd-ranked Concordia University Men's Basketball team stands in relation to its conference competition. The Bulldogs were able to put behind their first loss of the season (a 90-59 blowout at the hands of No. 5 Jamestown) this past weekend by bouncing back with a 103-61 win at Waldorf University (Iowa). Head Coach Ben Limback's squad sits at 6-1 overall (3-1 GPAC) heading into this week's matchups with Morningside and Northwestern.
This Week
Wednesday, Nov. 30 at Morningside (6-2, 2-1 GPAC), 7:45 p.m.
--Live Webcast | Live Stats | Max Country | Location: Rosen Verdoorn Sports Center (Sioux City, Iowa)
Saturday, Dec. 3 vs. Northwestern (6-2, 1-1 GPAC), 3:45 p.m.
--Live Webcast/Stats | Max Country | Location: Friedrich Arena (Seward, Neb.)
By the numbers
· The showdown last week with Jamestown is one the Bulldogs will try to learn from. It was rough from the start as Concordia found itself down 34-12 while struggling to shoot from the perimeter – and to keep the Jimmies off the glass. The Bulldogs wound up shooting 33.9 percent (20-for-59) overall and made only 2-of-19 attempts from 3-point range. On the other side, Mason Walters filled the stat sheet like he normally does, as he went for 33 points, nine rebounds and six assists. Concordia was led by the 17 points apiece from Noah Schutte and Tristan Smith. Gage Smith added seven points, eight rebounds and two blocked shots. Jamestown (7-1, 2-1 GPAC) shot 47.3 percent from the floor and netted 13 treys. The loss snapped a 23-game home win streak for the Bulldogs.
· Just after the Thanksgiving holiday, Concordia regained its mojo while running away from Waldorf in the second half. Once again, Brad Bennett got microwave oven hot as he went 7-for-9 from 3-point range on his way to a game high 25 points. After building a somewhat modest 44-34 halftime lead, the Bulldogs poured it on in the second half when they outscored the Warriors, 59-27. Three Concordia players joined Bennett in double figures: Schutte (19), Tristan Smith (18) and Gage Smith (12). Gage also grabbed 11 rebounds and dished out seven assists. Off the bench, Zac Kulus made the most of his five minutes of action and drained 3-of-4 3-point attempts for nine points. The Bulldogs shot 54.9 percent from the field while limiting Waldorf to 34.3 percent shooting. Concordia also defeated the Warriors last season at the Cattle Classic.
· Bennett's 3-point stroke is something to behold. The Elkhorn, Neb., native also went 8-for-9 from beyond the arc in the 86-82 win over Ottawa University (Kan.) on Nov. 5. On the season, Bennett has made 23-of-44 (.523) attempts from long range. He ranks second among GPAC players in 3-point field goals per game (3.3) and in 3-point shooting percentage. At some point, Bennett might just break the program record for 3-point field goals in a single game. His eight against Ottawa equaled a feat also accomplished by past Bulldogs Josh Dahlke, John Puelz, Ryan Shrum and Bret Walter. Bennett has started in each of the past three games.
· Schutte has simply been steady and consistently good from game to game. The Laurel, Neb., native was recognized as the GPAC Player of the Week on Nov. 22. Schutte has scored at least 17 points in all seven games this season with a high of 26 versus Ottawa. He's averaging 19.9 points, 7.0 rebounds and 3.0 assists per game while shooting 62.3 percent from the floor and 85.4 percent from the foul line. Schutte has increased his averages from last season: 13.9 points and 6.2 rebounds. Schutte is one of four Bulldogs averaging in double figures in scoring. The others are Tristan Smith (14.1), Bennett (12.9) and Gage Smith (12.3).
· Gage Smith is currently the conference leader with an average of 11.4 rebounds per game. With 80 rebounds this season, Gage has pushed his career total to 714, a figure which ranks No. 7 in program history. This past weekend, he leapt Porter Birtell (712) on that list. Next up is Devin Smith (729) at No. 6. Meanwhile, Gage's younger brother Tristan could end up as one of the breakout stars of the conference this season. Tristan is averaging 14.1 points, 6.0 rebounds and 1.0 block per game while moving into the starting lineup.
· There may be a bit of movement this week in the GPAC ratings. The Jimmies bounced back from their only loss (versus Dakota Wesleyan on Nov. 16) and went 3-0 this past week with three wins over teams either ranked or receiving votes nationally. In addition, Hastings (8-0, 2-0 GPAC) and Morningside (6-2, 2-1 GPAC) have made waves with their strong starts. The Broncos are the only team in the league that has yet to lose a GPAC game.
The opponents
Morningside slipped to 14-12 overall (11-9 GPAC) last season and missed the national tournament for the first time since 2017. Head Coach Trent Miller's squad has started strong and has two top 25 wins outside of conference – over No. 16 Carroll College (Mont.) and No. 14 Indiana Wesleyan University. The Mustangs have four players averaging in double figures: Joey Skoff (17.9), Ely Doble (15.1), Jack Dotzler (13.3) and Trey Powers (10.6). Morningside has regrouped after saying goodbye to First Team All-GPAC honoree Zach Imig. The Mustangs are averaging 76.8 points and allowing 69.1. Concordia won two of three matchups last season with Morningside, including their GPAC quarterfinal meeting.
A national qualifier in 2022, Northwestern finished the 2021-22 season at 21-11 overall (13-7 GPAC). This is year 23 for Kris Korver as head coach of his alma mater. He led the program to NAIA Division II national titles in 2001 and 2003. The current squad is led by star post player Alex Van Kalsbeek, who has sat out the past four games. The team's leading scorer has been NCAA Division II transfer guard Dillon Carlson, who is averaging 20.1 points per game while shooting 46.3 percent from 3-point range. Concordia won six-straight series meetings with Northwestern before the Red Raiders got the upper hand in last season's matchup in Orange City. Northwestern will host Briar Cliff on Wednesday before traveling to Seward on Saturday.
Next week
The Bulldogs will welcome Mount Marty to Seward on Dec. 7 and will then play at Hastings on Dec. 10. The month of December will feature four GPAC games and three nonconference contests, including the game at Pinnacle Bank Arena on Dec. 20.