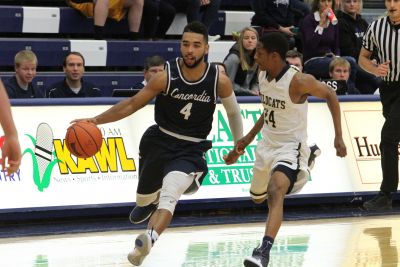 Bulldogs seek third-straight win in Wednesday battle with Doane
SEWARD, Neb. – Aiming for its first three-game winning streak since the beginning of the 2012-13 season, the Concordia University men's basketball team continues GPAC play tonight (Wednesday). Doane (6-6, 1-3 GPAC) serves as the opponent for a game set to tip off at 8 p.m. from Walz Arena.
Fans are encouraged to dress accordingly for the Hawaiian-themed evening that includes a women's basketball game to begin the night. A live webcast of the contest will be available via the Concordia Sports Network.
Defense paves way for improvement
Concordia jumped back over .500 at 5-4 overall by holding its last two opponents to a combined shooting percentage of .358 (49-for-137) on the way to wins over York College (76-71) and Hastings (77-74). Both the Panthers and Broncos shot below 37 percent. Among GPAC teams, the Bulldogs rank first in blocks per game (6.3), second in field goal percentage defense (.415), third in steals per game (8.9) and fourth in scoring defense (71.8).
High five
By earning its fifth win of the season on Nov. 25, head coach Ben Limback's squad has put itself well ahead of the pace from the prior two campaigns. The 2012-13 Bulldogs recorded their fifth victory on Jan. 25 while the 2013-14 team notched win No. 5 on Dec. 30. This year's Bulldogs, the highest scoring (75.8 ppg) since the 2003-04 team averaged 79.5 points, are pushing for the program's first above .500 finish since the 2010-11 season.
Thomas does it all
Robby Thomas continues to blossom in his junior season. The native of Shawnee, Kan., tops Concordia in scoring (14.4 ppg), rebounding (8.3 rpg) and blocks (3.22). The nation's third leading shot blocker, Thomas ranks favorably among GPAC players in a host of statistical categories.
Thomas ranks among GPAC players
1st in blocks per game (3.22)
1st in double-doubles (3)
3rd in rebounds per game (8.3)
5th in 3-point field goal percentage (.472)
8th in field goal percentage (.484)
11th in points per game (14.4)
14th in 3-point field goals/game (1.89)
Road warriors
While the Bulldogs sport a 2-3 home record, they have won three of four road outings, including both GPAC away games. Concordia owns road wins over Hastings (77-74), Kansas Wesleyan (85-72) and Mount Marty (88-70). The three road victories already equals the Bulldogs' season total from 2013-14 and eclipses the two away wins by the 2012-13 team. Among GPAC teams, only No. 2 Midland (6-0), No. 11 Morningside (4-0) and No. 15 Dakota Wesleyan (4-0) have better road records than Concordia.
From the charity stripe
Concordia has made hay at the free throw line early this season, making 75.3 percent (14th best among all NAIA Division II teams) of their 227 attempts. The Bulldogs also get to the charity stripe more frequently than most of the 133 teams that make up NAIA Division II men's basketball (see list below). Only 17 teams in the nation shoot more than the 25.2 free throws the Bulldogs attempt per game. Three of the top eight in the country reside in the physically-imposing GPAC. Individually, Concordia's most frequent free throw shooters are also its best. Joel Haywood owns a 90.0 percent (45-for-50) free throw percentage while Chandler Folkerts knocks down 82.5 percent (33-for-40) of his attempts from the charity stripe.
Most free throw attempts/game (NAIA DII)
1. Dordt (Iowa) – 34.3
2. Reinhardt (Ga.) – 31.9
3. Northwestern (Iowa) – 29.5
3. Purdue Calumet (Ind.) – 29.5
5. College of the Ozarks (Mo.) – 28.7
6. Bellevue (Neb.) – 28.4
7. Southwestern (Kan.) – 28.1
8. Morningside (Iowa) – 27.9
9. Johnson & Wales (Colo.) – 27.2
9. Thomas (Ga.) – 27.2
11. Jamestown (N.D.) – 27.0
12. Northern New Mexico – 26.9
13. Bryan (Tenn.) – 26.1
14. Saint Xavier (Ill.) – 25.9
15. Saint Francis (Ind.) – 25.8
16. Cardinal Stritch (Wis.) – 25.7
17. Huntington (Ind.) – 25.4
18. Concordia – 25.2
Doane goes for third-consecutive win
Like Concordia, the Tigers are coming off back-to-back wins. Doane defeated Kansas Collegiate Athletic Conference foes in No. 20 Tabor College and McPherson College over the weekend's Hastings Classic. Third-year head coach Jim Weeks' squad owns a conference home win over Dordt (92-82). Its three GPAC losses have come at the hands of Briar Cliff (64-48), Hastings (63-62) and No. 2 Midland (72-55). Junior guard Deonte Holt tops the team with a scoring average of 16.5.