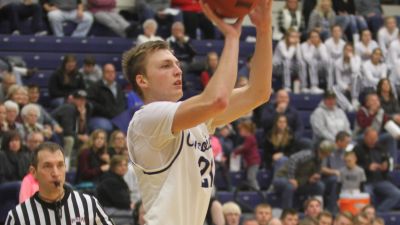 SEWARD, Neb. – Another opportunity for a signature victory will greet the Concordia University men's basketball team this week. The Bulldogs went through a range of emotions last week during a stretch that included a win at the gun in overtime at Doane and then a lopsided home defeat at the hands of 10th-ranked Morningside. Over the next five days, Concordia (12-4, 5-3 GPAC) will take on the conference foe that resides in first place (Briar Cliff) and in last place (Mount Marty).
This week's schedule
Wednesday, Jan. 10 vs. No. 5 Briar Cliff (17-2, 6-1)
Saturday, Jan. 13 at Mount Marty (3-15, 0-9)
Both of this week's games will be covered live by 104.9 Max Country radio. Additionally, live webcasts will be available via the following links: Wednesday | Saturday.
Fifth-year head coach Ben Limback's squad escaped Crete with a win on Jan. 3 thanks to the heroics of sophomore guard Cordell Gillingham, who tossed in the game-winning buzzer beater in overtime. Gillingham posted 13 points in both of last week's outings while helping keep the Bulldogs afloat during the first half of the loss to Morningside. Gillingham is part of a loaded sophomore group that has been the driving force behind the program's third 12-3 start during the GPAC era (2000-present). Concordia is currently tied for fourth place in the league standings after being picked eighth in the preseason.
For much of this season, the Bulldogs have been an efficient offensive team. They returned to Nebraska last week after shooting better than 55 percent from the floor in both road wins in the Chicago area just before New Year's. Concordia then shot a season low 40.0 percent (7-for-30) at Doane before struggling even more versus Morningside (31.0 percent). Despite last week's cold shooting, the Bulldogs still rank 13th nationally in 3-point field goals per game (10.4) and 26th in field goal percentage offense (.484).
Concordia will need to be on its game to keep up with Briar Cliff, which ranks eighth nationally with an average of 92.5 points per game. The Chargers have won six games in a row since their only GPAC defeat, a 103-94 setback at Midland. The defending GPAC champion, Briar Cliff has kept on humming under Mark Svagera, who replaced Nic Nelson as head coach. Svagera employs a trio of prolific scorers in Erich Erdman (20.5), Jay Wolfe (19.6) and Jackson Lamb (16.1).
Mount Marty and Briar Cliff matched up over the weekend with the result being an 84-63 Charger victory. The Lancers continue to seek their first conference win of the season. Senior guard Marcus Mathieu isn't afraid to let it fly. He averages 18.9 points per game and has already shot 90 free throws (77.8 percent). Mount Marty also has a first-year head coach in Cody Schilling, who has the task of rebuilding a program that has hovered at the bottom of the GPAC in recent years.
Next week Concordia will be at Haskell Indian Nations University on Jan. 17 before returning home to host Dordt (9-10, 3-4 GPAC) on Jan. 20.
Projected lineups
Concordia (12-4, 5-3)
G – Jake Hornick: 16.2 ppg, 5.6 rpg, 4.8 apg, 0.9 spg, .515 fg%, .436 3-pt fg%, .813 ft%
G – Cordell Gillingham: 7.2 ppg, 4.6 rpg, 3.3 apg, 0.8 spg, .474 fg%, .333 3-pt fg%
G – Tanner Shuck: 14.4 ppg, 2.7 rpg, 2.1 apg, .440 fg%, .392 3-pt fg%, .750 ft%
F – Kyle Pierce: 11.7 ppg, 6.4 rpg, 1.6 apg, .477 fg%, .371 3-pt fg%, .824 ft%
F – Clay Reimers: 16.7 ppg, 9.2 rpg, 2.5 apg, 0.8 bpg, .592 fg%, .353 3-pt fg%, .667 ft%
Briar Cliff (17-2, 6-1)
G – Erich Erdman: 20.5 ppg, 4.7 apg, 4.2 rpg, 1.8 spg, .538 fg%, .364 3-pt fg%, .905 ft%
G – Dylan Janecek: 3.6 ppg, 3.9 rpg, 2.1 apg, .424 fg%, .233 3-pt fg%
G – Jackson Lamb: 16.1 ppg, 4.5 rpg, 1.3 spg, .469 fg%, .397 3-pt fg%, .795 ft%
G – Jay Wolfe: 19.6 ppg, 7.1 rpg, 2.1 apg, .571 fg%, .513 3-pt fg%, .821 ft%
F – Blake Wiltgen: 9.2 ppg, 4.3 rpg, 1.8 apg, 1.0 spg, .612 fg%, .511 ft%
Mount Marty (3-15, 0-9
G – Shaye Bloch: 4.9 ppg, 4.4 rpg, 1.3 apg, .446 fg%, .842 ft%
G – Conlan Callahan: 9.3 ppg, 2.7 rpg, 1.6 apg, .393 fg%, .344 3-pt fg%, .913 ft%
G – Marcus Mathieu: 18.9 ppg, 4.6 rpg, 2.6 apg, .379 fg%, .325 3-pt fg%, .778 ft%
G – Zane Schumaker: 3.4 ppg, 3.1 apg, 2.7 rpg, 0.9 spg, .313 fg%, .273 3-pt fg%
F – Drew Cheskie: 10.6 ppg, 4.7 rpg, 1.1 bpg, .545 fg%, .722 ft%