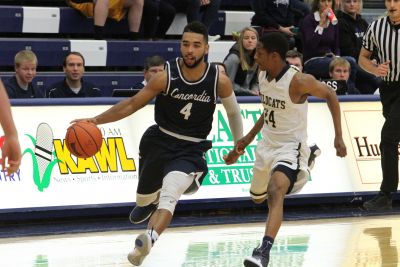 Bulldogs search for road win, travel to Hastings on Wednesday
The Concordia men have played some good basketball over the past few weeks. The Bulldogs will look for a road win on Wednesday evening when they travel to Hastings for an 8 p.m. contest against the Hastings College Broncos.
Concordia is 8-8 overall and 4-5 in conference play. The Bulldogs went 1-1 last week against two of the top teams in the country. The Bulldogs picked up a 94-75 win over then 14th-ranked Northwestern. The Bulldogs fell just short of another upset win on Saturday, as 2nd-ranked Dordt College held on for an 87-83 overtime win in Seward.
Porter Birtell had a huge week for the Bulldogs and picked up his second GPAC Player-of-the-Week award for his efforts. The junior post scored a career-high 37 points in CU's win over Northwestern. He was a perfect 12-of-12 from the field and 13-of-16 at the foul line, as the Red Raiders had no answers inside. Birtell followed with 23 points and 13 rebounds (both game-highs) in Concordia's near upset of Dordt College. He leads Concordia in scoring and rebounding and is second in the GPAC with his 18.7 points per game. Beau Smith and Joel Haywood also score in double figures for the Bulldogs, while both Tyler Byrd and Barrett Braun have increased their scoring in the past several games as well.
Scouting the Broncos – Hastings College is 9-10 overall and 3-6 in GPAC play so far this season. The Broncos went 1-1 last week, suffering a 98-77 loss at Dordt before picking up a 62-49 win over Mount Marty over the weekend. Tobin Reinwald averages over 17 points per game to lead the way offensively. Reinwald is 57.3 percent from the field overall and 54.1 percent from deep so far this year. Jake Marvin adds over 15 points per game while shooting 59.3 percent from the field. Brady Lollman also averages in double figures for Hastings with 12 points per game. Lollman also ranks first in the NAIA in free throw percentage (95.1 percent).
A live audio broadcast of the game can be found on AM 1230 or on the web at http://hastingslink.com/. Live video can be found at http://hcmediaonline.org/index.php.
Up next for the Bulldogs – Concordia travels to Morningside College on Saturday.