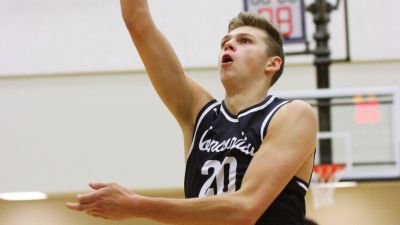 SEWARD, Neb. – Home has been sweet for the Concordia University men's basketball team. After another nailbiting loss on the road last week at Doane, the Bulldogs will play twice this week inside Walz Arena, where head coach Ben Limback's squad is unbeaten. Concordia is now 5-4 overall and 1-3 in conference play.
This week's slate begins on Thursday when Haskell Indian Nations University (Kan.) (1-9) visits Seward for a 7 p.m. tipoff. GPAC play picks back up on Saturday when the Bulldogs welcome No. 10 Dakota Wesleyan (7-2, 3-0) for a 4 p.m. tipoff. Both games can be seen via the Concordia Sports Network. Saturday's contest will also be aired on 104.9 Max Country with Tyler Cavalli calling the action.
In its most recent outing, Concordia let a chance for a conference road victory slip away. The Bulldogs led by as many as seven points in the second half at Doane before falling, 80-77. Senior standout Chandler Folkerts put up 20 or more points for the fifth-straight game. In addition, freshmen Tanner Shuck (3-for-3) and Jake Hornick (3-for-4) were red hot from 3-point range. The Tigers went 9-for-18 from long distance while matching Concordia's outside shooting.
Even in defeat, offensive efficiency has been a constant for the Bulldogs. They rank inside the top 20 nationally in all three major shooting categories: 3-point field goal percentage (sixth, .429), field goal percentage (11th, .510) and free throw percentage (17th, .748). Folkerts is shooting 66.0 percent from the field and averaging a career best 20.9 points per game. Shuck currently leads all GPAC players with a 3-point field goal percentage of 60.7.
In its first four tries at home, Concordia has defeated Waldorf University (Iowa), 83-76, Oklahoma Wesleyan University, 100-89, No. 17 York College, 91-77, and Mount Marty, 102-69. Dating back to last season, the Bulldogs have won seven-straight home games.
Located in Lawrence, Kan., Haskell is off to a 1-9 start. The Indians dropped a 78-75 decision at Doane in their season opener on Oct. 24. Their leading scorer is Tsalidi Sequoia, who is averaging 14.9 points per game. Meanwhile, Dakota Wesleyan enters the week with an unblemished 3-0 GPAC record. Though the Tigers said goodbye to star Trae Bergh, they still possess plenty of firepower thanks to a trio of players who average more than 15 points per game: Jason Spicer (21.1), Trae Vandeberg (18.7) and Ty Hoglund (15.0). Dakota Wesleyan is averaging 98.7 points per game (second most in NAIA Division II).
Next week's schedule includes a trip to No. 23 Morningside (Dec. 7) and a home game versus No. 6 Northwestern (Dec. 10).
Projected lineups
Concordia: 5-4, 1-3 GPAC
G – Chris Johnstone: 10.6 ppg, 2.9 rpg, 2.2 apg, .920 ft%
G – Seth Curran: 7.8 ppg, 3.9 rpg, 2.9 apg, .436 fg%
G – Eli Ziegler: 16.6 ppg, 3.0 apg, 2.7 rpg, .435 3-pt fg%
F – Kyle Pierce: 3.7 ppg, 3.2 rpg, 1.0 bpg, .351 fg%
C – Chandler Folkerts: 20.9 ppg, 7.7 rpg, 1.8 bpg, .660 fg%

Haskell: 1-9
G – Bryon Elledge: 8.6 ppg, 3.1 rpg, 3.9 apg, .338 fg%
G – Zach Bruns: 12.3 ppg, 2.3 rpg, 2.0 spg, .488 fg%
G – George Hill: 12.7 ppg, 3.0 apg, 1.3 rpg, .472 3-pt fg%
F – Nakia Hendricks: 6.5 ppg, 7.5 rpg, .625 fg%
F – Tsalidi Sequoyah: 14.9 ppg, 9.1 rpg, 1.1 apg, .586 fg%

Dakota Wesleyan: 7-2, 3-0 GPAC
G – Tate Martin: 12.2 ppg, 8.1 apg, 2.3 rpg, .453 fg%
G – Nate Davis: 10.2 ppg, 3.1 rpg, .574 fg%, .486 3-pt fg%
G – Trae Vandeberg: 18.7 ppg, 7.6 rpg, .468 fg%, .409 3-pt fg%
G – Ty Hoglund: 15.0 ppg, 4.3 rpg, 1.44 spg, .454 fg%
F – Jason Spicer: 21.1 ppg, 6.0 rpg, 2.8 apg, .700 fg%