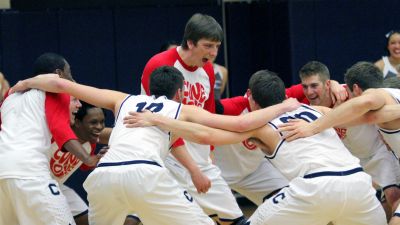 SEWARD, Neb. – The Concordia men's basketball team has announced its 2016-17 schedule. Coming off an 18-12 overall record, the Bulldogs will open up the season on October 28-29 with a road trip to Denver, Colo., to take on Dickinson State University and Johnson & Wales University.
Head coach Ben Limback said, "We are excited about the 2016-17 schedule. There are a lot of home games including the Cattle Classic in November and CIT in January. We also have some fun road trips scheduled in Denver and Miami. These are always great for team bonding and to see competition out of our area."
The men's squad will play 15 games inside Walz Arena this season, including the Concordia Invitational Tournament (CIT) on Jan. 27-28. The Bulldogs are the defending CIT Champions after taking the title over Concordia University-Wisconsin in a close 86-85 victory. A total of four Concordia institutions will compete for the 2017 title.
The Cattle Classic will take place Nov. 4-5 in Seward. Concordia will take on Friends University and Oklahoma Wesleyan in the tournament.
The middle of the season will be highlighted by a trip to Miami, Fla., on Dec. 29-30. Concordia will face Southeastern College and St. Thomas University in the St. Thomas University Classic. St. Thomas ended the 2016-17 season receiving votes in the national poll.
In GPAC action, the Bulldogs will face each team twice, once on the road and once on their own home court. Two conference teams, No. 4 Briar Cliff and No. 18 Dakota Wesleyan competed in the NAIA Tournament last season. Concordia will play at Dakota Wesleyan on Jan. 14 and at Briar Cliff on Feb. 11. The Bulldogs will host the Tigers on Dec. 3 and the Chargers on Jan. 4.
The GPAC Tournament will take place Feb. 22, 25 and 28. Location of games will be determined according to rankings in the conference after the regular season concludes.
The Bulldogs are returning two starters and two all-conference selections, Chandler Folkerts and Eli Ziegler. The duo was also placed on the Omaha World Herald All-Nebraska list. Folkerts was named to the CoSIDA Academic All-America first team and the All-America honorable mention team.