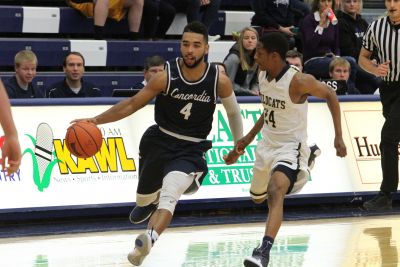 Bulldogs rally to upset No. 12 Midland in Fremont
FREMONT, Neb. – Down 10 points right out of the gate, the Concordia University men's basketball team charged back for a 79-71 road win that stunned No. 12 Midland in Fremont, Neb., on Wednesday night. A beast away from Walz Arena, the Bulldogs claimed their second top-15 ranked victim and ended an eight-game losing streak in the series with the Warriors, last season's national runner up.
Like the Dec. 29 road upset of then No. 3 Northwood University, Concordia's latest win represents another momentum builder for a team fighting for its GPAC tournament life. But thoughts of the conference tourney can wait. On this night it's about reveling in the program's first GPAC road win over a top 25 team in more than three years.
"Northwood was a great team and a great win, but it's so difficult to win on the road in the conference at this point in the season," Bulldog head coach Ben Limback said. "They know our personnel better. I thought we executed a lot of things well like the shot at the end of the first half. Then we closed it out with free throws.
"I thought this was a bigger win being able to get it on the road in the conference in an important game for both teams."
Limback's bunch moved to 15-13 overall and 8-10 in conference play (seventh place). The Bulldogs own a gaudy 10-5 mark away from Walz Arena.
The heroes on Wednesday were some of the usual suspects for Concordia in senior Joel Haywood (19 points, seven rebounds), junior Micah Kohwley (16 points, 4-for-6 3-point shooting) and sophomore Chandler Folkerts (15 points, 12 rebounds).
Kohlwey nailed a first-half 3-point buzzer beater that trimmed Concordia's halftime deficit to just a single point (40-39). He then buried a pair of triples near the midway point of the second half that staked the Bulldogs to a nine-point lead. The advantage moved to 58-48 on the strength of a 14-4 Concordia run that ended with 7:09 left on the clock.
"Micah was consistent all night for us," Limback said. "I feel like when he steps up our offense really opens up."
Led by Jordon Flynn, Midland made one final push that slashed an 11-point Concordia lead with 1:01 left down to four (73-69) with 26 seconds remaining. The Bulldogs, who made 22 of 30 second half free throws, sealed the win by draining their final six attempts from the charity stripe. Said Limback, "You know there are no easy moments for us."
After falling behind 10-0 to begin the game, Concordia fought back to take a first-half lead thanks to its hot 3-point shooting. Haywood ran in eight of his team's first 15 points to help the Bulldogs settle in amidst hostile territory.
Kohlwey's shooting, Folkerts' toughness inside and a sound defensive second half later helped lift Concordia to a victory that may have seemed improbable to others, but not quite so surprising to Limback and company.
"I knew we'd compete," Limback said. "We had a couple good practices and we had the right mindset. I liked our defense in the second half. Offensively we showed better patience in the second half and got to the free throw line."
Concordia outshot Midland, 47.6 to 39.3 percent, and held a 36-24 advantage on the boards. Justin Damme (eight points) and Rudy Knight (seven points) were solid off the bench for Limback.
Head coach Todd Eisner's squad was topped by Flynn's 15 points. Standout guard Galen Gullie was limited to five points on 1-for-7 shooting.
The Bulldogs are back on the road on Saturday when they travel to Orange City, Iowa, to take on Northwestern (14-11, 7-10 GPAC) in a game critical to both teams' hopes of reaching the eight-team GPAC tournament. The Red Raiders pulled out a 108-106 overtime victory at Walz Arena in this season's first meeting. Concordia's most recent win at Northwestern came by a score of 94-75 on Jan. 4, 2012, when the Red Raiders were ranked 14th nationally.