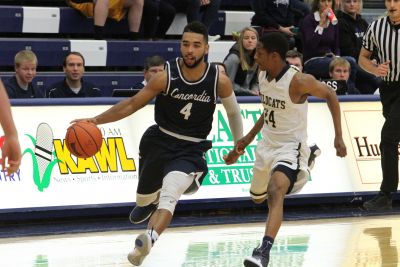 Bulldogs rally to complete 2-0 Florida swing
WEST PALM BEACH, Fla. – Less than 24 hours after poaching a thrilling upset win at No. 3 Northwood University, the Concordia University men's basketball team found itself trailing by 10 points in the second half in a matchup with Concordia University of Canada on Tuesday. The Bulldogs showed their continued growth and poise by rallying for a 78-71 victory over the Stingers in a neutral site contest held on Northwood's campus in West Palm Beach, Fla.
By completing a 2-0 swing in The Sunshine State, second-year head coach Ben Limback's squad jumped to 9-7 overall, surpassing last season's win total of eight.
"Today was a different story from last night," Limback said. "Today was a slugfest against a very physical team. We struggled in the first half defensively and didn't close out well on their shooters. They were able to shoot in rhythm and really grew their confidence.
"I give our guys credit. We played much better defensively in the second half and Chandler (Folkerts) was the biggest difference. He took over."
Trailing 48-38 early in the second half, the Bulldogs went on a 15-4 run in which five different players scored. The spurt, bookended by treys from freshman Kevin White and sophomore Eli Ziegler, gave Limback's group a one-point lead.
The Stingers, located in Montreal, led as late as the 6:55 mark before Bulldog sophomore post man Folkerts muscled in two points in the paint as part of his big evening. The native of Milford, Neb., notched six crucial points during the run that put the Bulldogs on top for good. Folkerts, who posted his sixth double-double (19 points, 11 rebounds), gave the Stingers trouble in the paint throughout the contest and finished 9-for-14 from the field.
That kind of effort was much needed with the way the Stingers stung the net from long range. Concordia Canada built its lead by making 7 of 15 first half shots from downtown and concluded the contest at 14-for-33 (.424) from long range. Gabe Riche went 3-for-4 from beyond the arc and leading scorer Mukiya Post (18 points) netted two treys.
The Stingers held a lead for nearly all of the first 30 minutes of action, appearing as though they may take advantage of a sluggish first half for a Bulldog team fresh off the program's biggest win in several years. Limback learned that his team was too tough to fall victim to the emotional high of the previous night.
"We wanted last night to carry over to today," Limback said. "It was such an emotional game for us. That was part of the slow start. But I also think Concordia Canada is a real good team even if their record doesn't indicate it. I liked our toughness. We did a lot of good things defensively."
Star junior wing Robby Thomas managed only eight points following his career high 27-point performance to fuel Monday's win over Northwood. Folkerts, Ziegler (11 points), junior Micah Kohlwey (10 points) and senior Joel Haywood (nine points, eight rebounds) helped pick up the slack, showing off Concordia's multi-dimensional attack.
"Other guys are stepping up beyond Robby and Chandler," Limback said. "That's what we have to have to beat good teams."
The Bulldogs again held a big edge at the free throw line, draining 20 of 24 (.833) shots from the charity stripe. The Stingers made 7 of 11 free throw attempts. From the field, Limback's group shot 49.1 percent compared to 39.7 percent for the Stingers.
The Bulldogs will fly back home in preparation for Saturday's conference tilt with Dordt (12-4, 4-3 GPAC) at 3 p.m. inside Walz Arena. Concordia will attempt to snap a nine-game series losing streak against the Defenders, who won this season's first meeting, 100-79, in Sioux Center, Iowa, on Dec. 6.