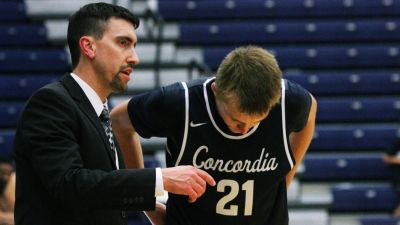 SEWARD, Neb. – Two teams seeking their first conference win of the 2016-17 season will meet inside Walz Arena on Saturday. The Concordia University men's basketball team and visiting Mount Marty are set to tip off at 4 p.m. CT. Head coach Ben Limback's squad is coming off an 87-77 loss at No. 21 Midland on Wednesday. Meanwhile, the Lancers fell by a 113-87 score in their GPAC opener versus Morningside.
Saturday's game will be available via the Concordia Sports Network. It will also be carried by 104.9 Max Country with Tyler Cavalli calling the action.
With star post man Chandler Folkerts scoring almost at will in the paint, Concordia has been one of the most efficient offensive teams in the nation, ranking in the top 25 in NAIA Division II in 3-point field goal percentage (.415), free throw percentage (.754) and field goal percentage (.499). Last week Folkerts was named the GPAC player of the week. He's averaging 20.6 points and 8.3 rebounds while shooting 68.1 percent from the floor (12th best in the nation). Though he was held to four points at Midland, senior guard Eli Ziegler is also performing at a high level on the offensive end. He's shooting 44.9 percent from beyond the arc.
Fourth-year head coach Andrew Baker will bring an improved squad to Walz Arena. The Lancers (3-4, 0-1 GPAC) have already topped their win total from last season. Mount Marty has been letting it fly from long range. The Lancers rank third nationally in 3-point field goals per game (12.3). Central Community College transfer OJ Thok has been given the green light. He's 23-for-42 (.548) from distance and leads the team with an average of 17.0 points per game. Mount Marty scores a lot (86.6 ppg) and gives up a lot (89.0 ppg).
So far this season, Concordia is a perfect 3-0 at home with wins over Waldorf University (Iowa), Oklahoma Wesleyan University and No. 17 York College. Dating back to last season, the Bulldogs have won six-straight contests played inside Walz Arena.
PROJECTED LINEUPS
Concordia (4-3, 0-2 GPAC)
G – Chris Johnstone (13.0 ppg, 2.9 rpg, .417 fg%)
G – Seth Curran (8.7 ppg, 3.3 rpg, 3.3 apg, .400 fg%)
G – Eli Ziegler (17.3 ppg, 2.6 apg, .449 3-pt fg%)
F – Kyle Pierce (3.6 ppg, 3.1 rpg, .310 fg%)
C – Chandler Folkerts (20.6 ppg, 8.3 rpg, 1.43 bpg, .681 fg%)
Mount Marty (3-4, 0-1 GPAC)
G – Hunter Martin (4.4 ppg, 2.0 apg)
G – Zach Telles (8.0 ppg, .360 3-pt fg%)
G – OJ Thok (17.6 ppg, 5.9 rpg, 3.3 apg, .458 fg%)
F – Drew Cheskie (13.3 ppg, 5.7 rpg, .585 fg%)
F – Patrick Ciganovic (12.7 ppg, 10.4 rpg, 3.4 apg, .444 fg%)